Kleinman Philadelphia Energy Authority Fellowship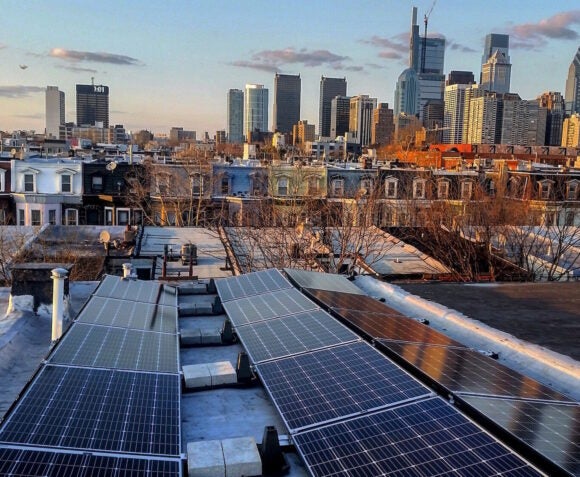 Position Details
Position:
Fellowship
Organization:
Kleinman Center for Energy Policy
Contact:
Oscar Serpell
serpello@upenn.edu
Location:
Philadelphia
Application Deadline:
January 30, 2023
Term:
May – August 2023
Compensation:
Stipend
Level:
Graduate
---
Applications for this position are closed.
Description of Fellowship
This opportunity is only available to Penn graduate students.
The Philadelphia Energy Authority is an independent municipal authority established in 2010 building a robust, equitable clean energy economy in Philadelphia. In 2016, PEA and City Council President Darrell Clarke launched the Philadelphia Energy Campaign, a $1 billion, 10-year investment in energy efficiency and clean energy projects to create 10,000 jobs. To date, PEA has helped launch over $291 million in projects and programs and created over 2,500 jobs. PEA works to make Philadelphia a national model for implementing energy strategies that improve the health and well-being of the community and local economy, including the City's most vulnerable residents.
PEA uses energy as an entry point to address many of our biggest challenges— poverty, equitable economic development, climate change, and public health. PEA is deeply committed to diversity, equity, inclusion, and justice in our operations and our programming.
This Kleinman-funded fellowship will enable a Penn graduate student to spend 10-12 weeks working on issues related to energy policy at PEA. Applicants for the PEA 2023 Kleinman Fellowship should be highly motivated individuals with experience working on energy, finance, and/or economic issues.
The PEA 2023 Kleinman Fellowship will focus on market research, pipeline development and outreach, and program analysis in support of accelerating the adoption of energy efficiency and renewable energy in Philadelphia. Most of the Fellow's time will be spent supporting PEA's commercial programs including C-PACE, Solarize Philly and the early-stage Virtual Power Plant initiative.
Context
Under the supervision of the PEA's Senior Director of Commercial Programs, the Kleinman Fellow will support the continued growth and expansion of PEA's Commercial programs through financial modeling, program development, and management, market education, stakeholder engagement, and research. The exact scope of work will be designed to complement the Fellow's existing skills and desired learning experiences.
Tasks
The Fellow will work closely with the PEA's Senior Director, Commercial Programs, and others to:
Develop strategic plans, market analysis, and research briefs for PEA's commercial programs and present findings to PEA staff
Support the development of PEA's Virtual Power Plant (VPP) initiative by synthesizing prior research, RFI responses, and market research
Analyze key provisions of the Inflation Reduction Act (IRA) and develop recommendations as to how PEA can take advantage of them, respond to opportunities and educate the broader market
Perform program-related financial & sensitivity analyses to generate long-term program forecasts and evaluate risk
Use specialized apps to identify commercial properties which may benefit from energy efficiency and solar energy investments
Conduct marketing and outreach for PEA's commercial programs and products to grow PEA's C-PACE and commercial solar pipelines
Prepare presentation materials, program documentation, application forms, and other written outputs for customer education and outreach
Participate in stakeholder engagement and event planning
Attend industry and networking events hosted by various business and trade organizations
Lead special projects that support the development of high-quality future programming which could include creating research briefs on potential opportunities for PEA or evaluating policy & market trends to inform strategic planning
Background and Skills Required
Current graduate student
A self-starter with strong problem-solving and communication skills.
Demonstrated interest in energy, sustainability, climate change, impact investing, finance, advocacy, education, urban studies, and/or other relevant topics
Demonstrated experience in one or more of the following: commercial real estate, renewable energy and/or real estate development, financial modeling, entrepreneurship, research
Strong written, verbal, and interpersonal skills
Display maturity and a high level of professionalism
Detail-oriented and organized
Ability to manage simultaneous projects/work streams, set priorities, and exercise independent judgment
The following skills would be advantageous:
Training in finance, project and/or real estate or energy project development
Work experience in a company that is active in projects related to energy
Experience in a start-up or entrepreneurial environment
Application Instructions
Applications for this position are closed.
Stipend
Fellows will receive $15,000 from the Kleinman Center. The selected student will be responsible for their own travel and housing.
---
Start and end dates for this fellowship are not fixed, but fellows must work full-time with PEA for 10-12 weeks and are expected to complete their assignments within 4 months of the start date. The final start and end dates will be decided between the fellow and PEA.
---