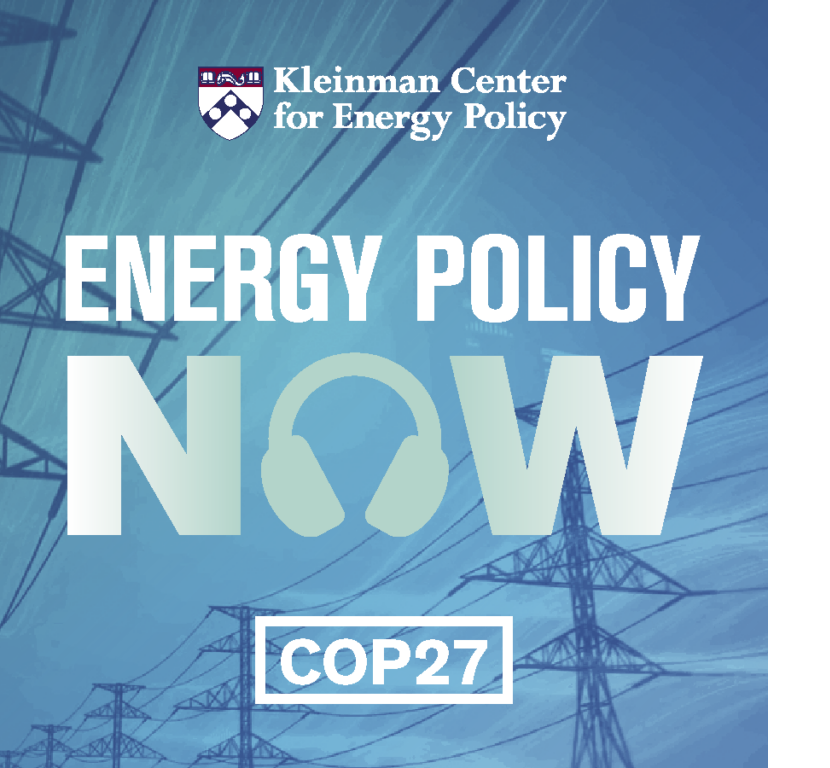 Energy Policy Now offers clear talk on the issues that define our relationship with energy and its impact on society and the environment.
---
Sort by

Publish Date

Sort by

Title
Guests
Summary
May 23, 2023
Geography, Equity, and the Energy Transition

Nikki Luke

A geographer explores the impact of location on worker opportunity and equity in the clean energy economy.
May 9, 2023
Breaking the Bottlenecks to Climate Progress

Elke Weber,

Chris Greig

Princeton University researchers have launched a global survey aimed at spotting and eliminating practical barriers to a net-zero carbon future.
April 25, 2023
Energy Transition Puts Grid Reliability to the Test

Abraham Silverman

PJM Interconnection is in a race to shore up electric grid reliability as the transition from fossil fuels to clean energy accelerates.
April 11, 2023
Accelerating Climate Action

Simon Sharpe

A senior climate diplomat discusses scientific, economic, and diplomatic barriers to rapid global decarbonization.
March 28, 2023
Climate Shocks and Green Returns

Luke Taylor

New research examines the relationship between climate change-related events and returns on green investment, and why returns for green stocks might lag those of brown.
March 14, 2023
How Families Cope with Energy Insecurity

Sanya Carley

New research looks into coping mechanisms that families use to navigate energy insecurity, as a guide for policy-based solutions.
February 28, 2023
Scaling Private Finance for Global Solar Growth

Laura Van Wie McGrory

A working paper from WRI, the International Solar Alliance and Bloomberg Philanthropies examines the essential role of private finance in scaling solar power development.
February 14, 2023
The Complex, Politically Fraught Path to Building Electrification

Judy Chang

Judy Chang, former Massachusetts undersecretary of Energy and Climate Solutions, discusses the need to educate consumers on the imperative to cut building emissions.
January 31, 2023
Will New Technology and Climate Change Save Nuclear Power?

Daniel Poneman

Daniel Poneman, former U.S. Deputy Energy Secretary and current CEO of Centrus Energy, explores the resurgent interest in nuclear power a decade after Fukushima.
January 17, 2023
China Plays Competitor, and Collaborator, in the Energy Transition

Scott Moore

Scott Moore, author of China's Next Act, discusses China's global role in energy technology and sustainability.
December 13, 2022
Overcoming Economic Barriers to Electrifying Everything

Meredith Fowlie

Berkeley economist Meredith Fowlie explains why the drive to electrify everything in American homes is at odds with electricity rate-setting practices, and explores pricing reforms to deliver rapid and equitable electrification.
December 6, 2022
Energy Transition and Opportunity in the Oil Patch

Katie Mehnert

As energy industry growth shifts to the clean sector, oil and gas industry workers seek their paths forward.
November 19, 2022
COP27 Dispatch: The Struggle for Agricultural Sustainability Under Climate Stress

Andrew Hoffman

Andrew Hoffman, dean of Penn's School of Veterinary Medicine, explores the intersection of climate change, agricultural sustainability, and food security.
November 18, 2022
COP27 Dispatch: Can the COP Process Deliver Climate Action?

Koko Warner

COP27 in Sharm El-Sheikh, Egypt has been called the "implementation COP". Yet concern exists that the COP process may be ill-suited to putting climate plans into action.
November 17, 2022
COP27 Dispatch: Food Waste Gains Attention in Climate Discussions

Steven Finn

Food waste is a major driver of climate change and a cause of food insecurity. Penn's Steven Finn highlights the challenge and solutions discussed at COP27.
Podcast Producer & Host
Since the first season of our podcast series, Andy Stone has directed each episode of Energy Policy Now—defining topics, inviting guests, and leading informative conversations.
host
Energy Policy Now Host and Producer
Andy Stone is producer and host of Energy Policy Now, the Kleinman Center's podcast series. He previously worked in business planning with PJM Interconnection and was a senior energy reporter at Forbes Magazine.