Kleinman PEA Fellowship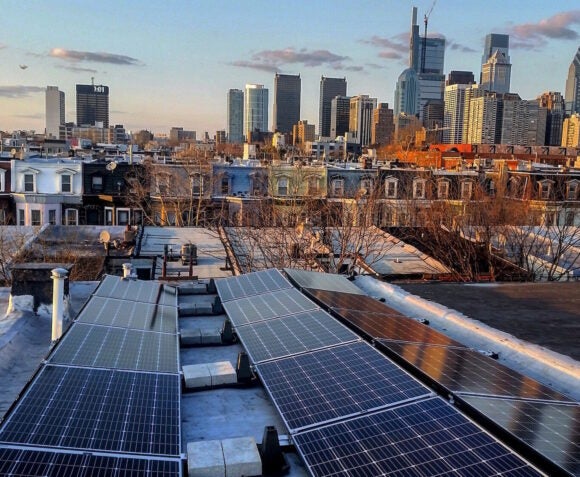 Details
Position:
Fellowship
Organization:
Kleinman Center for Energy Policy
Contact:
Oscar Serpell
serpello@upenn.edu
Location:
Philadelphia
Application Deadline:
January 31, 2022
Term:
May – August 2022
Compensation:
Stipend
Level:
Graduate
---
About PEA
The Philadelphia Energy Authority (PEA) is an independent municipal authority focused on issues of energy affordability and sustainability for Philadelphia. In 2016, PEA launched the Philadelphia Energy Campaign, a $1 billion, 10-year investment in energy efficiency and clean energy projects to create 10,000 jobs and to build a robust, equitable clean energy economy in Philadelphia. In its first four years, the campaign has resulted in more than $67 million in projects and created 1,700 jobs.
In 2021, PEA incorporated the Philadelphia Green Capital Corp (PGCC), a new "green bank" to help grow the clean energy economy in the Philadelphia region. PGCC offers low-cost financing options for energy efficiency and renewable energy projects and develops programs that remove systemic barriers to clean energy financing.
Description
This Kleinman-funded fellowship will enable a Penn graduate student to spend 10 to 12 weeks working on issues related to energy policy at PEA. Applicants for the Kleinman PEA Fellowship should be highly motivated individuals with experience working on energy, finance, and/or economic issues.
The Kleinman PEA Fellowship will focus on analyzing new financial tools, pipeline development, and promoting accessible loan products and resources to accelerate the adoption of energy efficiency and renewable energy in Philadelphia. Most of the Fellow's time will be spent supporting PGCC, PEA's green bank affiliate.
Under the supervision of the PGCC Executive Director, the Kleinman Fellow will support PGCC's continued growth as a new green bank entity serving the Philadelphia region. The fellow will work on a variety of activities, including financial modeling, program development and management, market education, stakeholder engagement and research. The exact scope of work will be designed to complement the fellow's existing skills and desired learning experiences.
Responsibilities
The fellow will work closely with the executive director and others to:
Develop financial models for prospective PGCC lending products, prepare detailed memos, and present findings to the executive director
Perform program-related financial and sensitivity analyses to generate long-term program forecasts and evaluate risk
Conduct marketing and outreach for PGCC's commercial financing tools to build PGCC's commercial project pipeline
Prepare presentation materials, program documentation, application and underwriting forms, and other written outputs for customer education and outreach
Support pitch materials, develop target list of investors and partners, and participate in fundraising meetings to capitalize PGCC
Participate in stakeholder engagement and event planning
Lead special projects that support the development of high-quality future programming, which could include creating research briefs on potential opportunities for PGCC or evaluating policy and market trends to inform strategic planning
Qualifications
Current graduate student, MBA preferred
A self-starter with strong problem-solving and communication skills
Demonstrated interest in energy, sustainability, climate change, impact investing, finance, advocacy, education, urban studies and/or other relevant topics
Demonstrated experience in one or more of the following: project development, financial modeling, entrepreneurship, affordable housing, research
Strong written, verbal, and interpersonal skills
Display maturity and a high level of professionalism
Detail oriented and organized
Ability to manage simultaneous projects/work streams, set priorities, and exercise independent judgment
The following skills would be advantageous:
Training in finance, project and/or real estate or energy project development
Work experience in a company that is active in projects related to energy
Experience in a start-up or entrepreneurial environment
Stipend
Fellows will receive $15,000 from the Kleinman Center, inclusive of travel and housing.
Application Instructions
Applications for this fellowship must be submitted to the Kleinman Center for Energy Policy by 5:00 PM on Monday, January 31, 2022. Interested candidates should apply by submitting an online form with the following information:
Unofficial Transcript
Resume
Writing Sample
A 1-Page Cover Letter
This opportunity is available only to currently enrolled Penn graduate students. Assuming continued progress in managing the COVID pandemic, this will be a hybrid position. Candidates should plan to be in or near Philadelphia for the duration of their fellowship.
---
Start and end dates for this fellowship are not fixed, but fellows must work full time with PEA for 10 to 12 weeks and are expected to complete their assignments within four months of the start date. Final start and end dates will be decided between the fellow and PEA.
---