Kleinman Apollo Fellowship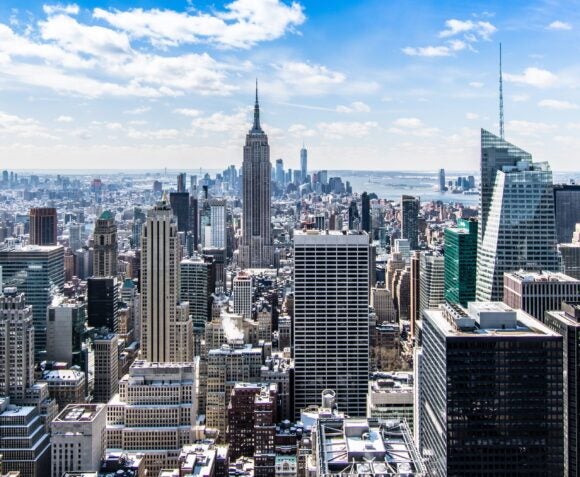 Details
Position:
Non-conversion Fellowship
Organization:
Apollo Global Management
Contact:
Oscar Serpell
serpello@upenn.edu
Location:
New York, NY
Application Deadline:
November 3, 2023
Term:
June 3 – August 9, 2024
Compensation:
Paid
Level:
Undergraduate
---
Description
The Kleinman Center for Energy Policy has partnered with Apollo Global Management to offer a Penn-exclusive research associateship. Apollo's US Summer Intern program provides students with an exceptional learning opportunity. The program provides full immersion into the small, dynamic teams that drive Apollo's innovative investment strategies and access to an unparalleled, apprenticeship learning experience. The program includes mentoring, citizenship projects, unique learning experiences and networking, social events, and an expert speaker series. You will work closely day to day with colleagues at every level, experiencing what it means to be a member of the Apollo community.
From day one at Apollo, you're invited to join in and offer your unique point of view. Different perspectives help us to see the uncommon opportunities Apollo is known for, building better companies with an eye to their social impact as well as their financial returns. You'll be working in an apprenticeship culture that develops your skills every day.
About the Team
Apollo targets deploying $50 billion in clean energy and climate capital over the next five years and sees the opportunity to deploy more than $100 billion by 2030. With approximately $4.5 trillion annually in investments needed to achieve global net zero by 2050, Apollo aims to be a leading capital partner to companies and communities globally.
Apollo's summer Kleinman Center for Energy Policy Analyst will work within Apollo's Climate Private Equity group focused on climate related investments. In this role, the Summer Analyst focuses on Private Equity's three core strategies: (i) opportunistic corporate buyouts, (ii) distressed-for-control investments, and (iii) corporate carve-outs. Responsibilities include financial modeling and analysis, company and industry research, portfolio management, and investment idea generation. In order to understand the value proposition and risks associated with any investment, the Summer Analyst must analyze diligence data, scrutinize business trends, construct investment models, and present an investment thesis and analyses to senior investment professionals.
Primary Responsibilities
Apollo works as one team, partnering across regions and disciplines to share the perspectives and insights that lead to exceptional opportunities. You'll partner with junior and senior level professionals on a range of projects at every stage of the investment cycle. As a Summer Analyst on the Private Equity Climate team, you will:
Perform company and industry due diligence, including risk assessment and quantitative & qualitative analysis of business and market trends
Monitor existing portfolio companies, including evaluating platform and add-on acquisitions and evaluating exit options
Develop investment committee memoranda and materials with senior team members
Present and participate in investment committee meetings, including communicating analyses effectively to senior investment professionals
Conduct financial modeling and analysis incorporating various business projections and capital structures, while stress testing critical assumptions
Partner with external due diligence advisors such as accountants, tax experts, consultants, lawyers and operating advisors
Work with counterparties to raise financings for Apollo's investments
Analyze business performance trends of prospective and existing investments
Assist the team with additional ad hoc projects
Qualifications and Experience
Undergraduate students with an excellent academic record and a demonstrated interest in finance through previous internships, jobs, and coursework. Apollo is committed to fostering a diverse and inclusive workplace and all individuals are encouraged to apply.
A critical thinker with strong quantitative and analytical skills who expresses their thoughts and ideas clearly both in oral and written communications
A collaborative thinker who can also work independently, multitask, and prioritize competing demands to meet deadlines in a fast-paced environment
A proactive and organized self-starter with a positive attitude, powerful work ethic, strong attention to detail.
Experience and comfort working with essential analytical software; namely, Microsoft Excel
About Apollo
Apollo is a high-growth, global alternative asset manager. In our asset management business, we seek to provide our clients excess return at every point along the risk-reward spectrum from investment grade to private equity with a focus on three investing strategies: yield, hybrid, and equity. For more than three decades, our investing expertise across our fully integrated platform has served the financial return needs of our clients and provided businesses with innovative capital solutions for growth. Through Athene, our retirement services business, we specialize in helping clients achieve financial security by providing a suite of retirement savings products and acting as a solutions provider to institutions. Our patient, creative, and knowledgeable approach to investing aligns our clients, businesses we invest in, our employees, and the communities we impact, to expand opportunity and achieve positive outcomes.
Application Instructions
Applications for the fellowship should be submitted to the Kleinman Center for Energy Policy using this Asana form. Applications should include a 1-page cover letter, a copy of your resume, and a copy of your unofficial Penn transcript. 
Apollo's Purpose and Core Values
Our clients rely on our investment acumen to help secure their future. We must never lose our focus and determination to be the best investors and most trusted partners on their behalf. We strive to be:
The leading provider of retirement income solutions to institutions, companies, and individuals.
The leading provider of capital solutions to companies. Our breadth and scale enable us to deliver capital for even the largest projects – and our small firm mindset ensures we will be a thoughtful and dedicated partner to these organizations. We are committed to helping them build stronger businesses.
A leading contributor to addressing some of the biggest issues facing the world today – such as energy transition, accelerating the adoption of new technologies, and social impact – where innovative approaches to investing can make a positive difference.
We are building a unique firm of extraordinary colleagues who:
Outperform expectations
Challenge Convention
Champion Opportunity
Lead responsibly
Drive collaboration
As One Apollo team, we believe that doing great work and having fun go hand in hand, and we are proud of what we can achieve together.
---
Apollo Global Management LLC is an equal opportunity/affirmative action employer. The firm and its affiliates do not discriminate in employment because of race, color, religion, gender, national origin, veteran status, disability, age, citizenship, marital or domestic/civil partnership status, sexual orientation, gender identity or expression or because of any other criteria prohibited under controlling federal, state or local law.
---