Featured Episode
Emerging TechMarkets & Regulation
December 5, 2023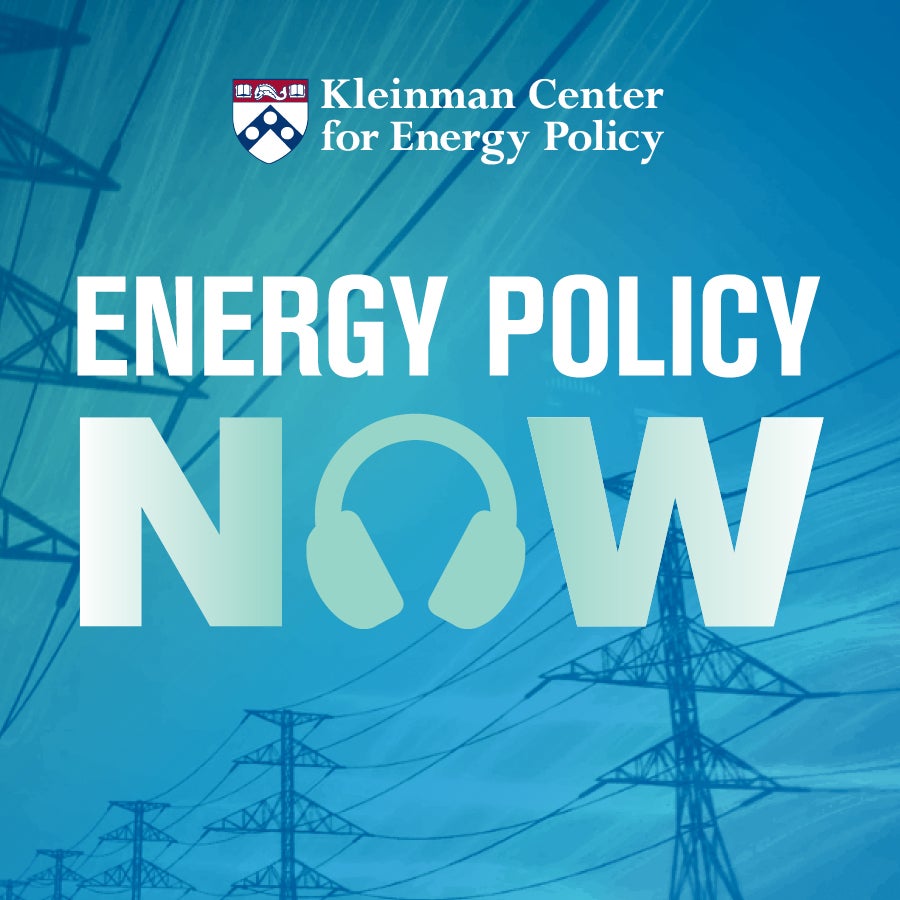 Energy Policy Now offers clear talk on the issues that define our relationship with energy and its impact on society and the environment.
---
Sort by

Publish Date

Sort by

Title
Guests
Summary
November 21, 2023
Aligning Clean Energy Policy with Grid Reliability

Kelli Joseph

Recent electric grid emergencies highlight the need for better communication, and coordination, between energy policymakers and grid operators.
July 25, 2023
America's Electric Power Transmission Crisis

Rob Gramlich

Long-distance electric transmission lines are critical to the energy transition, yet construction of new lines has come to a near standstill in the U.S. Rob Gramlich of Grid Strategies discusses recent market and regulatory action to resurrect transmission development.
April 25, 2023
Energy Transition Puts Grid Reliability to the Test

Abraham Silverman

PJM Interconnection is in a race to shore up electric grid reliability as the transition from fossil fuels to clean energy accelerates.
February 14, 2023
The Complex, Politically Fraught Path to Building Electrification

Judy Chang

Judy Chang, former Massachusetts undersecretary of Energy and Climate Solutions, discusses the need to educate consumers on the imperative to cut building emissions.
December 13, 2022
Overcoming Economic Barriers to Electrifying Everything

Meredith Fowlie

Berkeley economist Meredith Fowlie explains why the drive to electrify everything in American homes is at odds with electricity rate-setting practices, and explores pricing reforms to deliver rapid and equitable electrification.
May 24, 2022
Governing Net-Zero Emissions Targets

Thomas Hale

As net-zero carbon targets become commonplace, strong governance will be needed to ensure climate benefits. This is episode two in the Exploring Governance series.
October 5, 2021
What Stands Between Louisiana and a Resilient Electric Grid?

Robert Verchick

Hurricane Ida was the most recent storm to wreak havoc on Louisiana's electric grid.  A legal expert discusses the struggle to provide resilient power in the state as weather and climate risks grow.
September 21, 2021
Can Americans Afford to Fully Electrify Their Homes?

Lucas Davis

A leading energy economist explores the cost of electrifying home heating, the top source of energy demand and carbon emissions in American homes.
June 29, 2021
Why Is It So Hard to Build the Electric Grid of the Future?

Rob Gramlich

America's electric grid is ill-equipped to enable the low carbon energy system of the future.  A grid policy expert explores the policy and economic changes that will be needed to bring the grid up to date.
October 27, 2020
Grid Forward Debate: Has Electricity Deregulation Led to Better Community Outcomes?

Bruce Edelston,

Mark Kolesar

Electricity market deregulation promised to bring more affordable and reliable electricity to consumers. A quarter of a century after deregulation began, has its promise delivered for all Americans?
October 13, 2020
U.S. Electricity Regulator Takes a Hard Look at Carbon Pricing

Mike Borgatti

In September the U.S. electricity regulator, the FERC, held its first conference to explore carbon pricing in the nation's electricity markets. Is a carbon price finally on the way?
May 12, 2020
Developing the Electric Grid for Carbon-Free Energy

Judy Chang

More states are targeting 100% clean energy, but is the electric grid ready? An expert in energy policy and economics looks at the policy challenges to creating a robust, carbon-free electricity system.
November 12, 2019
Rebuilding Puerto Rico's Electricity System

David Skeel

Puerto Rico's electric system was destroyed by Hurricane Maria in 2017. Will privatization of the island's electric utility ensure reliable and affordable energy for the future?
October 15, 2019
The Path Forward for Grid Electricity Storage

Ken Kulak

Battery storage will play a central role in decarbonizing the nation's electric grid, yet the rules by which batteries will compete in electricity markets have yet to be agreed upon.
May 15, 2019
What's the FERC, and How Is It Shaping Our Energy Future? (Part 2)

Colette Honorable

Former FERC Commissioner Colette Honorable discusses the agency's challenging relationship with the states over clean energy subsidies and their potential impact on the nation's electricity markets.
Podcast Producer & Host
Since the first season of our podcast series, Andy Stone has directed each episode of Energy Policy Now—defining topics, inviting guests, and leading informative conversations.
host
Energy Policy Now Host and Producer
Andy Stone is producer and host of Energy Policy Now, the Kleinman Center's podcast series. He previously worked in business planning with PJM Interconnection and was a senior energy reporter at Forbes Magazine.