Featured Episode
RenewablesMarkets & Regulation
November 30, 2021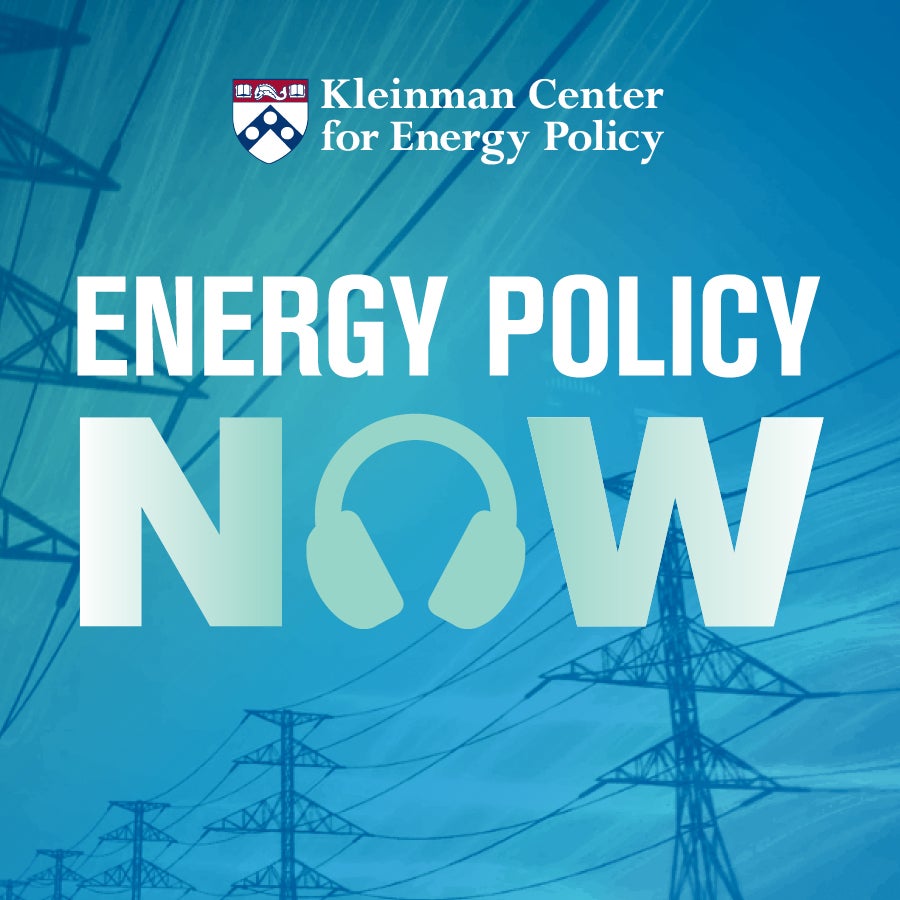 Energy Policy Now offers clear talk on the issues that define our relationship with energy and its impact on society and the environment.
---
Sort by

Publish Date

Sort by

Title
Guests
Summary
June 11, 2019
Three Pathways to Uphold America's Paris Commitment

Matthew Binsted,

Brad Townsend

Can consumers take the lead in reducing U.S. carbon emissions in the absence of strong federal climate policy? New research takes a look at three aggressive pathways for the U.S. to meet the Paris goals.
May 28, 2019
Why Coal Persists

Anna Mikulska

Global demand for coal is projected to persist over the next 20 years, with dire implications for climate. A look at why coal use endures, and what might be done to limit its use.
May 15, 2019
What's the FERC, and How Is It Shaping Our Energy Future? (Part 2)

Colette Honorable

Former FERC Commissioner Colette Honorable discusses the agency's challenging relationship with the states over clean energy subsidies and their potential impact on the nation's electricity markets.
April 30, 2019
What's the FERC, and How Is It Shaping Our Energy Future? (Part 1)

Colette Honorable

Former FERC Commissioner Colette Honorable explains the work of the Federal Energy Regulatory Commission, and its often contentious role in shaping the future of U.S. electricity and natural gas systems.
February 19, 2019
Getting to the Right Carbon Price

Dallas Burtraw

Bipartisan carbon pricing proposals have started to appear at the national level, which begs a question: what's the right price for carbon?  An advisor to California and RGGI carbon markets offers insights.
February 5, 2019
China's EV Juggernaut

John Paul MacDuffie

China is aggressively expanding its electric vehicle industry, with the aim of becoming a leader in the global automotive market.
December 11, 2018
Bold Climate Policy Is Coming. Investors, Take Note

Nathan Fabian

A group of global investors foresees bold policy action on climate by the mid-2020s. What will such action, dubbed the Inevitable Policy Response, mean for capital markets and economies?
October 16, 2018
What IPCC 1.5 Degree Report Means for Global Climate Action

Oliver Geden

IPCC lead climate author Oliver Geden talks about how politicians view the IPCC's 1.5 degree report, and implications for climate action.
October 9, 2018
Gas Pipelines: A Threat to Electric Grid Resilience?

William Hederman

As natural gas has grown in importance as a fuel for electricity generation, have gas pipelines become the electric grid's Achilles heel? A cybersecurity expert discusses the risk posed by the grid's growing dependence on gas.
October 2, 2018
Grid Resilience in the Cyber Age

Gladys Brown

Can the U.S. electric grid remain resilient as the threat of cyber and physical attack rises? Pennsylvania PUC Chair Gladys Brown talks about state and federal efforts to safeguard the electric power system.
September 18, 2018
Decision Making for Climate Leaders

Mark Alan Hughes

Can policymakers effectively prepare for an uncertain future climate? The Kleinman Center's Mark Alan Hughes discusses emerging decision models for climate mitigation and adaptation.
July 10, 2018
Ending Water Wars

Scott Moore

Fresh water resources are becoming scarce as water demand from cities, industry, and agriculture rises. Can seemingly inevitable conflicts over water and the environment be avoided?
May 31, 2018
Are 100% Renewable Energy Targets Realistic?

Karl Hausker

A number of states are pushing legislation that would require 100% renewable energy supply. But challenges ranging from high costs to the duck curve could make such targets hard to reach.
April 23, 2018
An EPA After Scott Pruitt

Cary Coglianese ,

Daniel Walters

What might the EPA look like without current Administrator Scott Pruitt? Two regulatory experts discuss the future direction of the agency.
March 20, 2018
Lessons from a Decade of Cap & Trade

Arthur van Benthem

Carbon cap and trade is gaining momentum, most recently with China's plan to build the largest carbon market. What can new markets learn from cap and trade's past mistakes?
Podcast Producer & Host
Since the first season of our podcast series, Andy Stone has directed each episode of Energy Policy Now—defining topics, inviting guests, and leading informative conversations.
host
Energy Policy Now Host and Producer
Andy Stone is producer and host of Energy Policy Now, the Kleinman Center's podcast series. He previously worked in business planning with PJM Interconnection and was a senior energy reporter at Forbes Magazine.