Featured Episode
Fossil FuelsClimate
September 12, 2023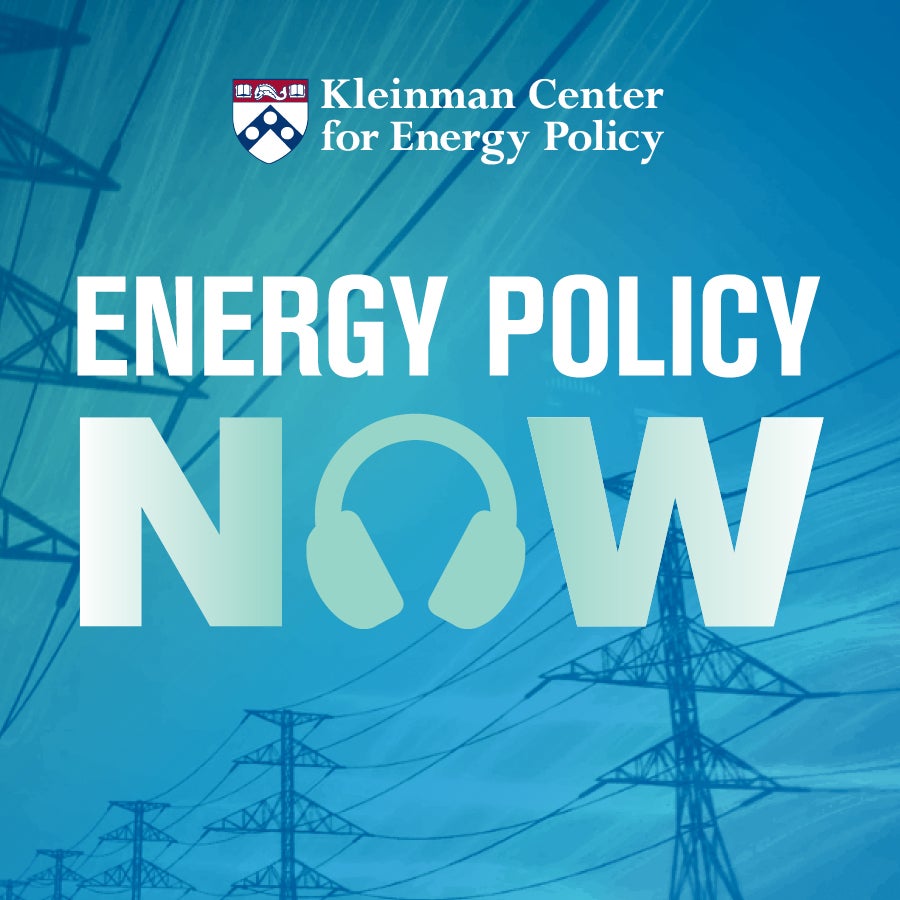 Energy Policy Now offers clear talk on the issues that define our relationship with energy and its impact on society and the environment.
---
Sort by

Publish Date

Sort by

Title
Guests
Summary
June 20, 2023
Tackling Climate Technology Investment Risk

Nicholaus Rohleder

Nick Rohleder, Energy Policy Now's former editorial assistant and a climate entrepreneur, discusses the challenge of managing investment risk inherent in emerging clean energy technologies.
January 31, 2023
Will New Technology and Climate Change Save Nuclear Power?

Daniel Poneman

Daniel Poneman, former U.S. Deputy Energy Secretary and current CEO of Centrus Energy, explores the resurgent interest in nuclear power a decade after Fukushima.
January 17, 2023
China Plays Competitor, and Collaborator, in the Energy Transition

Scott Moore

Scott Moore, author of China's Next Act, discusses China's global role in energy technology and sustainability.
September 27, 2022
Scaling Green Hydrogen for a Global Market

Alicia Eastman

Green hydrogen hubs are being developed in some of the world's most remote locations, to serve growing clean energy demand in Asia, Europe and the U.S.
July 5, 2022
Can Carbon-Negative Oil Be Climate Positive?

Peter Psarras

The fossil fuel industry is investing billions of dollars into projects that will use carbon dioxide captured from the air to produce more oil. What will be the climate impact?
May 10, 2022
Governing the Promise and Peril of Emerging Climate Technologies

Shuchi Talati

Shuchi Talati, former chief of staff of the Department of Energy's Office of Fossil Energy & Carbon Management, discusses the need for strong governance to balance the potential benefits of carbon dioxide removal technologies with environmental and social risks. This is episode one in the Exploring Governance series.
December 14, 2021
For Solar Geoengineering, Daunting Policy Questions Await

Gernot Wagner

A climate economist discusses why efforts to cool earth's climate through solar geoengineering appear all but inevitable, and considers the policy questions and political battles to come.
March 23, 2021
A Primer on Carbon Dioxide Removal

Erica L. Belmont,

Jeremy Freeman,

Noah McQueen,

Peter Psarras,

Toly Rinberg

Carbon Dioxide Removal is an industrial-scale strategy to hold climate change in check. Five experts weigh in on CDR's potential, challenges and moral hazards.
January 12, 2021
Europe Maps Out Its Hydrogen Energy Strategy

Kirsten Westphal

Hydrogen energy is a key part of Europe's plan to zero out carbon emissions by mid-century. But can the bloc build hydrogen capacity, and demand, in time to reach its goal?
December 15, 2020
Energy Storage's Seasonal Challenge

Oscar Serpell

Electricity storage technologies have proven their worth in balancing daily fluctuations in wind and solar output. But can storage address the challenges presented by the decarbonized grid of the future?
March 3, 2020
The Challenge of Scaling Negative Emissions

Jennifer Wilcox

The author of the first text book on carbon capture looks at the potential for negative emissions technologies to limit global warming, and discusses the challenge to scaling solutions for positive climate impact.
October 15, 2019
The Path Forward for Grid Electricity Storage

Ken Kulak

Battery storage will play a central role in decarbonizing the nation's electric grid, yet the rules by which batteries will compete in electricity markets have yet to be agreed upon.
April 2, 2019
A Hard Look at Negative Emissions

Glen Peters

Much faith is being put in the ability of negative emissions technologies to slow the pace of climate change. Glen Peters of Norway's Center for International Climate Research looks at the potential of negative emissions strategies, and the steep challenges to implementing them.
May 1, 2018
Distributed Energy's Cyber Risk

William Hederman,

Steve Kunsman

As distributed energy grows, so does cyber risk to the grid. Two energy security experts discuss solutions.
February 27, 2018
The Promise and Peril of Self-Driving Trucks

Steve Viscelli

Self-driving technology promises to revitalize the trucking industry. But increased energy demand and air pollution are possible downsides.
Podcast Producer & Host
Since the first season of our podcast series, Andy Stone has directed each episode of Energy Policy Now—defining topics, inviting guests, and leading informative conversations.
host
Energy Policy Now Host and Producer
Andy Stone is producer and host of Energy Policy Now, the Kleinman Center's podcast series. He previously worked in business planning with PJM Interconnection and was a senior energy reporter at Forbes Magazine.