Featured Episode
Access & EquityRenewables
August 2, 2022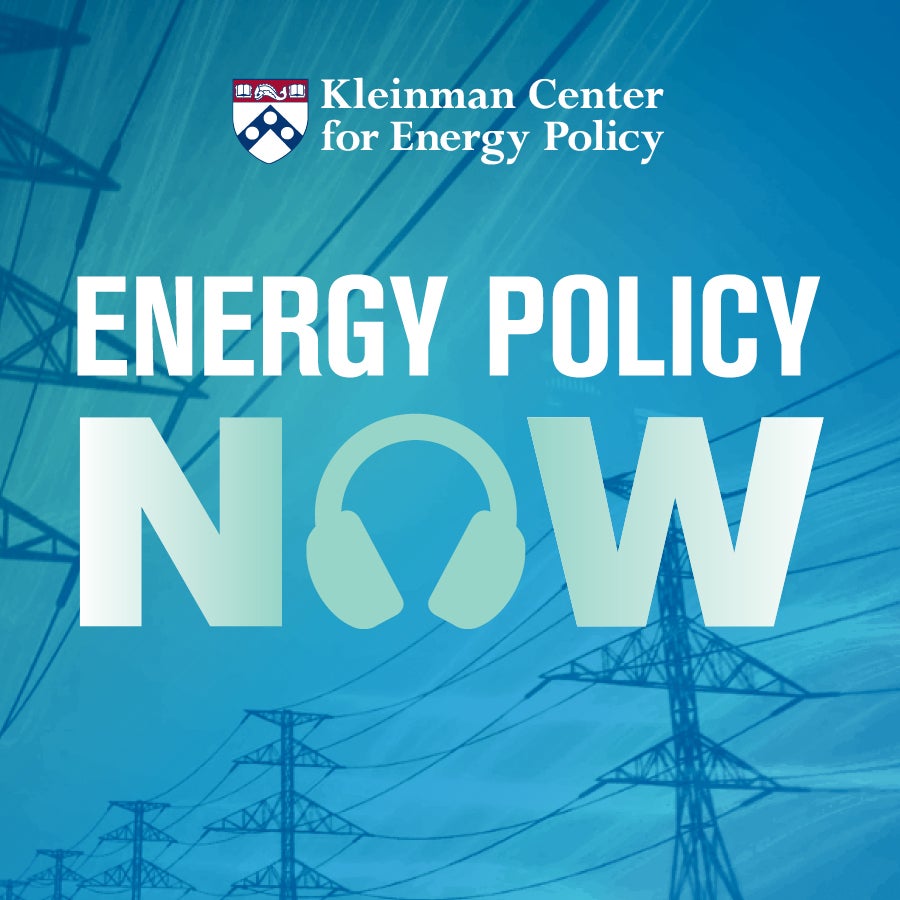 Energy Policy Now offers clear talk on the issues that define our relationship with energy and its impact on society and the environment.
---
Sort by

Publish Date

Sort by

Title
Guests
Summary
December 23, 2019
Power of Siberia Pipeline Strengthens Russia-China Ties

William Hederman,

Anna Mikulska

The Power of Siberia gas pipeline brings Russia and China closer together, and reveals a new power dynamic between the two countries.
December 10, 2019
Airlines Struggle to Rise to Climate Challenge

Andrew Murphy

The airline industry has a plan to limit its carbon footprint. Will it deliver?
November 26, 2019
Rethinking Global Emissions Trading

Suzi Kerr

The Environmental Defense Fund's chief economist discusses a plan that leverages international cooperation to achieve ambitious, and durable greenhouse emissions reductions under the Paris climate framework.
November 12, 2019
Rebuilding Puerto Rico's Electricity System

David Skeel

Puerto Rico's electric system was destroyed by Hurricane Maria in 2017. Will privatization of the island's electric utility ensure reliable and affordable energy for the future?
October 29, 2019
The Rise of Partisan Politics in Energy Regulation

Cheryl LaFleur

Cheryl LaFleur, former commissioner with the U.S.' top electricity and gas market regulator, talks about the growing influence of partisan politics in energy regulation.
October 15, 2019
The Path Forward for Grid Electricity Storage

Ken Kulak

Battery storage will play a central role in decarbonizing the nation's electric grid, yet the rules by which batteries will compete in electricity markets have yet to be agreed upon.
October 9, 2019
Debunking the 'War on Coal'

Cary Coglianese ,

Daniel Walters

The Trump administration blames the decline in America's coal industry on a regulatory "war on coal." Yet investor reaction to regulatory announcements doesn't support that view.
September 17, 2019
Climate Denialism, Florida, and the Future of Climate Politics

Rafe Pomerance

Rafe Pomerance, an early campaigner for climate action and the subject of Nathaniel Rich's book Losing Earth, discusses the increasingly pivotal role of climate change in U.S. electoral politics.
July 23, 2019
How the Democratic-Republican Climate Rift Became Political Reality

Riley Dunlap

Over the past half-century, Americans have become increasingly polarized over the issues of environment and climate change. A pioneer in the field of environmental sociology discusses how views on climate have become an essential element of party ideology, and what it means for the 2020 election.
July 9, 2019
Breaking America's Nuclear Waste Impasse

Allison Macfarlane

Former NRC Chairman Allison Macfarlane discusses four decades of failed efforts to find a permanent disposal solution for America's civilian nuclear waste and new thinking, based on successful disposal efforts in the military and overseas, that could lead to a workable solution.
June 25, 2019
Does Attribution Science Give Climate Litigators a Smoking Gun?

Michael Burger,

Peter Frumhoff

Climate attribution science allows connections to be made between extreme weather events and a warming climate. The science is also being used to trace climate change to the activities of specific industries and companies, potentially generating evidence to fuel climate litigation.
June 11, 2019
Three Pathways to Uphold America's Paris Commitment

Matthew Binsted,

Brad Townsend

Can consumers take the lead in reducing U.S. carbon emissions in the absence of strong federal climate policy? New research takes a look at three aggressive pathways for the U.S. to meet the Paris goals.
May 28, 2019
Why Coal Persists

Anna Mikulska

Global demand for coal is projected to persist over the next 20 years, with dire implications for climate. A look at why coal use endures, and what might be done to limit its use.
May 15, 2019
What's the FERC, and How Is It Shaping Our Energy Future? (Part 2)

Colette Honorable

Former FERC Commissioner Colette Honorable discusses the agency's challenging relationship with the states over clean energy subsidies and their potential impact on the nation's electricity markets.
April 30, 2019
What's the FERC, and How Is It Shaping Our Energy Future? (Part 1)

Colette Honorable

Former FERC Commissioner Colette Honorable explains the work of the Federal Energy Regulatory Commission, and its often contentious role in shaping the future of U.S. electricity and natural gas systems.
Podcast Producer & Host
Since the first season of our podcast series, Andy Stone has directed each episode of Energy Policy Now—defining topics, inviting guests, and leading informative conversations.
host
Energy Policy Now Host and Producer
Andy Stone is producer and host of Energy Policy Now, the Kleinman Center's podcast series. He previously worked in business planning with PJM Interconnection and was a senior energy reporter at Forbes Magazine.