Featured Episode
Renewables
June 6, 2023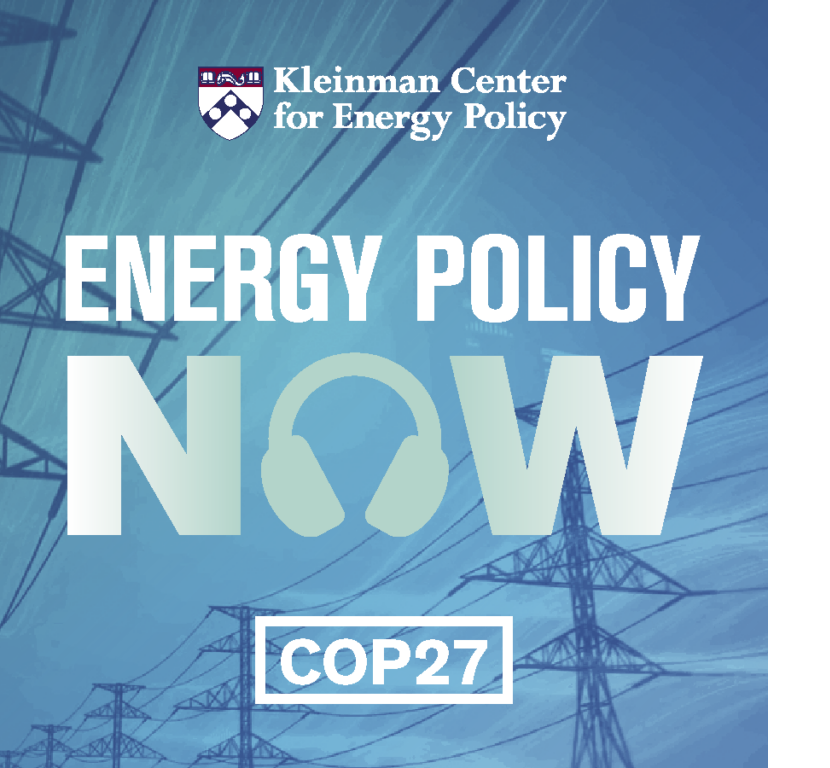 Energy Policy Now offers clear talk on the issues that define our relationship with energy and its impact on society and the environment.
---
Sort by

Publish Date

Sort by

Title
Guests
Summary
February 14, 2023
The Complex, Politically Fraught Path to Building Electrification

Judy Chang

Judy Chang, former Massachusetts undersecretary of Energy and Climate Solutions, discusses the need to educate consumers on the imperative to cut building emissions.
November 15, 2022
COP27 Dispatch: As Climate Impacts Grow, Cities Explore Paths to Adaptation

Eugenie Birch,

William Burke-White,

Mauricio Rodas

Three experts on cities discuss the efforts of urban communities to navigate climate change. 
September 21, 2021
Can Americans Afford to Fully Electrify Their Homes?

Lucas Davis

A leading energy economist explores the cost of electrifying home heating, the top source of energy demand and carbon emissions in American homes.
April 20, 2021
Combating Energy Poverty in the U.S.

Tony Reames

One-third of American households struggle to pay for their basic energy needs. University of Michigan's Tony Reames explores the role of policy in overcoming energy poverty.
January 30, 2020
Following Refinery Blast, Philadelphia Looks to a Cleaner Future

Mark Alan Hughes

Last June the largest oil refinery on the East Coast blew up. In the disaster's wake, can the city of Philadelphia and its residents transition to a cleaner, more financially sound future?
April 3, 2018
Rising Seas and the Future of Coastal Cities

Billy Fleming,

Jeff Goodell

As sea levels rise, nuisance flooding is the first wave of assault on coastal cities. Can we protect our coasts from inundation, or is retreat inevitable?
October 31, 2017
A City Blazes Its Clean Energy Trail

Adam Agalloco

A growing number of U.S. cities have set aggressive clean energy and efficiency targets, but the complexity and cost of energy transition can be daunting. Philadelphia's Energy Manager offers insights into his city's new plan to go 100% renewable and cut energy use.
Podcast Producer & Host
Since the first season of our podcast series, Andy Stone has directed each episode of Energy Policy Now—defining topics, inviting guests, and leading informative conversations.
host
Energy Policy Now Host and Producer
Andy Stone is producer and host of Energy Policy Now, the Kleinman Center's podcast series. He previously worked in business planning with PJM Interconnection and was a senior energy reporter at Forbes Magazine.