Devastating storms, dangerous flooding, raging wildfires—the past few months have seen some of the most destructive natural disasters in U.S. history. Hurricane Harvey brought massive flooding throughout Texas and Louisiana, Hurricane Irma brought major damage to Florida and the Caribbean, and Puerto Rico is still reeling after Hurricane Maria, with about 80% of the island still without power.  In California, more than a million acres of land has burned in one of the worst wildfire seasons ever.
Natural disasters are unavoidable, but in recent years, it seems storms and wildfires have gotten bigger and more dangerous. And Americans are footing the bill. According to a new report released by the Government Accountability Office (GAO), a non-partisan federal office, extreme weather and fire events have cost the federal government over $350 billion over the last decade—and this accounting does not include the most recent hurricanes and wildfires of the past few months.
Areas all across the United States can expect to be affected by changing climate. Storm surge and sea level rise will damage East Coast infrastructure, higher temperatures will destroy crops and bring more heat-related deaths in the Southeast and Midwest, and drought will continue to plague the Southwest.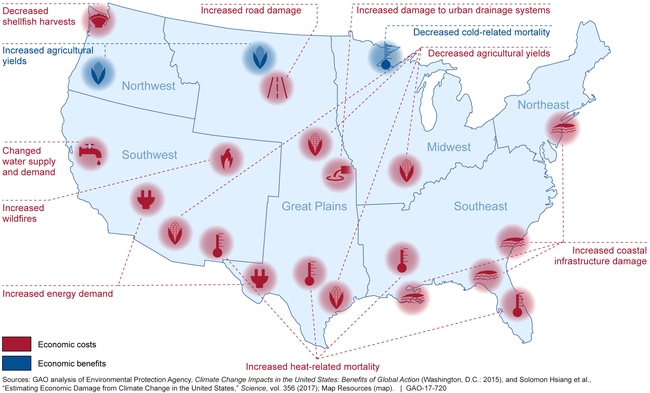 With all these impacts, there is a price tag. GAO researchers reviewed 30 government and academic studies and interviewed 28 experts in the field to explore that price tag. Their report states that of $350 billion incurred over the last decade, $205 billion was spent on domestic disaster response and relief; $90 billion for crop and flood insurance; $34 billion for wildland fire management; and $28 billion for maintenance and repairs to federal facilities and federally managed lands, infrastructure, and waterways. Even more alarming, the report outlines how these costs are expected to increase. Federal costs suffered due to climate change could increase by anywhere from $12 billion to $35 billion per year by mid-century. By the end of the century, these costs are predicted to climb to anywhere from $34 billion to $112 billion annually.
What should we do about this? The recommendation from the GAO is that the Office of the President should continue to explore these climate risks and craft an "appropriate federal response." But as they note, this administration has been reluctant to take action stating, "The federal government has not undertaken strategic government-wide planning to manage climate risks."
President Trump has called climate change a "hoax" and had appointed prominent members to his cabinet who doubt the scientific consensus that human activity and fossil fuel use is driving climate change, notably EPA Administrator Scott Pruitt and Interior Secretary Ryan Zinke. President Trump is also seeking to dismantle Obama-era climate protections such as the Paris Climate Accord and the Clean Power Plan.
Given the Trump administration's record on climate, it is likely this report will fall on deaf ears. But perhaps seeing the soaring economic impacts associated with climate change will spark some concern, before Mar-a-Lago goes under water.  
Senior Communications Specialist
Mollie Simon is the senior communications specialist at the Kleinman Center. She manages the center's social media accounts, drafts newsletters and announcements, writes and publishes content for our website, and regularly posts to our blog.