Featured Episode
Climate
September 26, 2023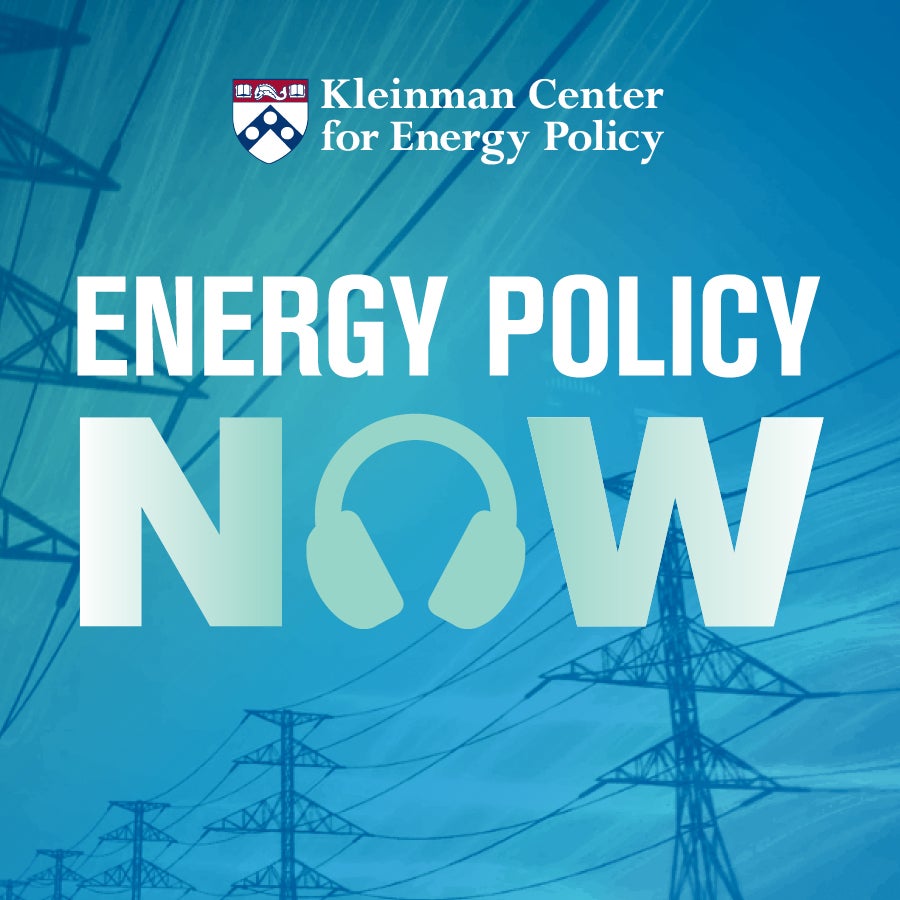 Energy Policy Now offers clear talk on the issues that define our relationship with energy and its impact on society and the environment.
---
Sort by

Publish Date

Sort by

Title
Guests
Summary
April 17, 2019
An Inside Look at the UN's Effort to End Energy Poverty

Rachel Kyte

Rachel Kyte, a leader of the United Nations' effort to eradicate energy poverty within a decade, discusses the challenge of providing universal energy access while limiting climate impacts.
November 27, 2018
Vox's David Roberts on Energy, Climate, and the Media

David Roberts

Vox writer David Roberts weighs in on the media's role in shaping views on energy and the environment.
November 13, 2018
As India Eliminates Energy Poverty, Can It Also Fight Climate Change?

Piyush Goyal

Piyush Goyal, India's minister of railways and coal and past minister of renewable energy, discusses his country's efforts to provide universal electricity access while limiting power sector pollution and climate impact.
October 9, 2018
Gas Pipelines: A Threat to Electric Grid Resilience?

William Hederman

As natural gas has grown in importance as a fuel for electricity generation, have gas pipelines become the electric grid's Achilles heel? A cybersecurity expert discusses the risk posed by the grid's growing dependence on gas.
October 2, 2018
Grid Resilience in the Cyber Age

Gladys Brown

Can the U.S. electric grid remain resilient as the threat of cyber and physical attack rises? Pennsylvania PUC Chair Gladys Brown talks about state and federal efforts to safeguard the electric power system.
September 4, 2018
Handicapping EPA's Deregulatory Climate Agenda

Joseph Goffman

Will EPA's Clean Power Plan replacement withstand legal challenge? An architect of the Clean Power Plan weighs in.
July 24, 2018
U.S. Offshore Wind Industry Arrives

Jim Bennett,

Brandon Burke

After a decade of false starts, the U.S. offshore wind industry is poised for real growth. The chief of the U.S. Bureau of Ocean Energy Management's renewables office takes a look at the future of offshore wind.
May 31, 2018
Are 100% Renewable Energy Targets Realistic?

Karl Hausker

A number of states are pushing legislation that would require 100% renewable energy supply. But challenges ranging from high costs to the duck curve could make such targets hard to reach.
May 1, 2018
Distributed Energy's Cyber Risk

William Hederman,

Steve Kunsman

As distributed energy grows, so does cyber risk to the grid. Two energy security experts discuss solutions.
February 13, 2018
The Future of Nuclear Host Communities

Saqib Rahim,

Jennifer Stromsten

Nuclear power plants pump millions of dollars into local economies. As the rate of nuclear retirements accelerates, will surrounding communities find a way forward?
December 12, 2017
Grid Operator PJM Talks Details of Energy Price Formation

Stu Bresler,

Christina Simeone

The Energy Department's proposal to shore up coal and nuclear power plants could undermine the very foundations of competitive electricity markets. PJM Interconnection's Stu Bresler, SVP for Operations and Markets, weighs in on DOE's proposal, and offers PJM's alternative.
November 28, 2017
India's Now or Never Climate Opportunity

Radhika Khosla

Mass migration to India's cities will triple the size of its built environment by 2030, driving up energy use and carbon emissions. An expert on India's energy sector looks at the country's efforts to balance development and climate impact.
November 14, 2017
Distributed Energy's Wholesale Opportunity

Ari Peskoe

Owners of rooftop solar could soon begin selling power into wholesale electricity markets, the traditional domain of big coal, gas and nuclear generators.  The catch: electricity markets need to get fully behind the switch.
September 5, 2017
The Road Forward for Electric Vehicles

John Paul MacDuffie

The electric vehicle market seems poised to take off, with high demand for Tesla's Model 3 and growing attention from big automakers. Yet challenges that stalled EV growth in the past, namely sparse charging infrastructure and high costs, persist. A Wharton School expert looks at the role policymakers can take to support, or sink, the EV renaissance.
June 27, 2017
Can Nuclear Bailouts and Electricity Markets Coexist?

David Cherney,

Christina Simeone

Recent financial bailouts of nuclear reactors in New York and Illinois highlight the conflict between states' environmental goals and the integrity of electricity markets.  As more states weigh subsidies, debate over their market impact and legality expand.
Podcast Producer & Host
Since the first season of our podcast series, Andy Stone has directed each episode of Energy Policy Now—defining topics, inviting guests, and leading informative conversations.
host
Energy Policy Now Host and Producer
Andy Stone is producer and host of Energy Policy Now, the Kleinman Center's podcast series. He previously worked in business planning with PJM Interconnection and was a senior energy reporter at Forbes Magazine.