Featured Episode
Emerging TechMarkets & Regulation
December 5, 2023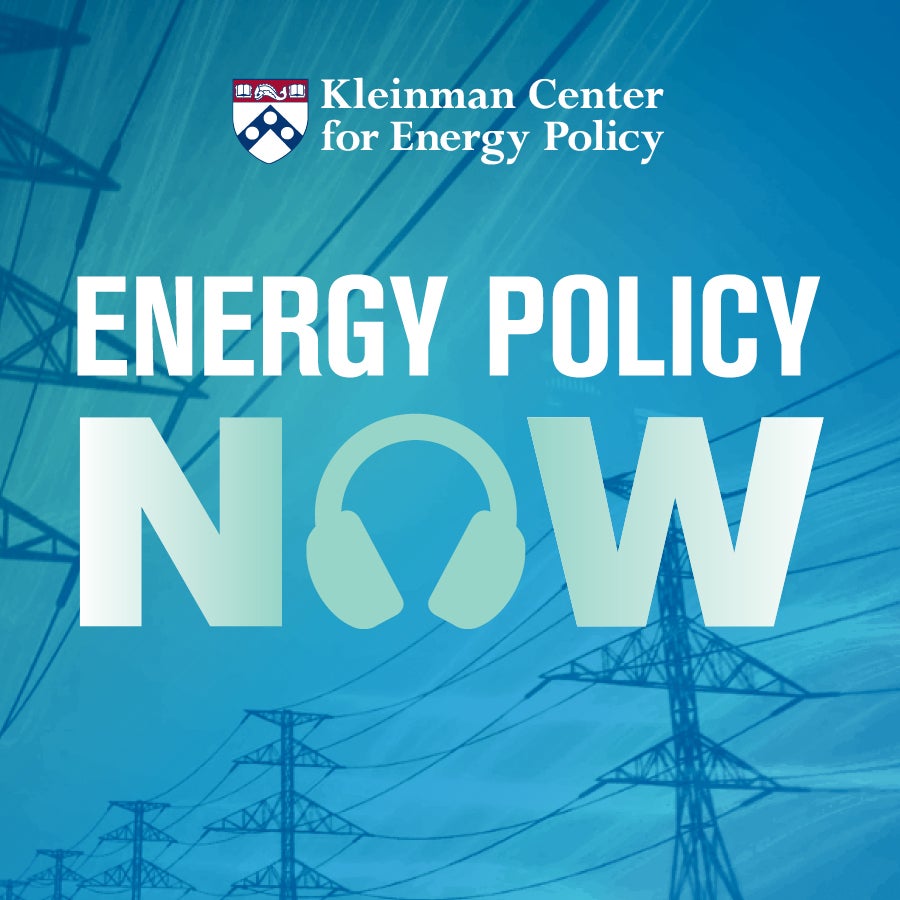 Energy Policy Now offers clear talk on the issues that define our relationship with energy and its impact on society and the environment.
---
Sort by

Publish Date

Sort by

Title
Guests
Summary
May 23, 2023
Geography, Equity, and the Energy Transition

Nikki Luke

A geographer explores the impact of location on worker opportunity and equity in the clean energy economy.
March 14, 2023
How Families Cope with Energy Insecurity

Sanya Carley

New research looks into coping mechanisms that families use to navigate energy insecurity, as a guide for policy-based solutions.
November 11, 2022
COP27 Dispatch: Why Loss and Damage Finance Is Critical to Small Island States

Stacy-ann Robinson

Loss and damage finance has made it onto the official COP agenda for the first time at Sharm El-Sheikh. An expert on small island states discusses why the issue has been so contentious.
August 2, 2022
Can Clean Energy Deliver Energy Justice to Canada's First Nations?

Melina Miyowapan Laboucan-Massimo

A prominent advocate for indigenous rights in Canada sees promise in clean energy.
June 7, 2022
Raw Materials Pose ESG Challenge for EV Industry

David Manley,

Hervé Lado

Two experts on mining industry governance explore environmental and social challenges around the mining of cobalt, a critical material in EV batteries, in the Democratic Republic of the Congo. This is episode three in the Exploring Governance series.
March 22, 2022
Will Clean Energy Be Equitable Energy?

Chandra Farley

An energy activist highlights the opportunities, and challenges on the way to clean and equitable energy in the United States.
March 10, 2022
Organized Labor Sees Promise in Transition to Clean Energy

Lara Skinner

The transition to a clean energy economy will generate millions of new jobs. Unions are working to ensure that those jobs provide a living wage.
January 25, 2022
What Makes Green Energy Finance Green?

Brian Lehman

A financier discusses the challenge of managing clean energy investment risk.
June 15, 2021
Can the FERC Be Made Accountable to Communities and the Environment?

Shelley Welton

Congress has directed the nation's regulator for natural gas and electricity infrastructure to be more responsive to community and environmental concerns. Will FERC's new Office of Public Participation deliver on the promise of public inclusion?
June 1, 2021
Coal Communities Seek Their Post-Coal Future

Heidi Binko

Heidi Binko, Executive Director of the Just Transition Fund, discusses the challenges coal communities face in adapting to a post-coal future, and strategies for economic transition.
May 18, 2021
Powering Women's Economic Development Through Equal Access to Energy

Sheila Oparaocha

Sheila Oparaocha of the International Network on Gender and Sustainability discusses the global effort to ensure gender equality in energy access, as an essential foundation for economic development and public health. 
May 4, 2021
The Potential, and Risks, of Nature-Based Climate Solutions

Nathalie Seddon

Nature-based climate solutions can play a major role in climate change mitigation and adaptation. But biodiversity risks, and community impacts, loom large.
April 20, 2021
Combating Energy Poverty in the U.S.

Tony Reames

One-third of American households struggle to pay for their basic energy needs. University of Michigan's Tony Reames explores the role of policy in overcoming energy poverty.
September 29, 2020
Zoning Rules Stifle Urban Clean Energy. Can The Rules Be Rewritten?

Sara Bronin

Outmoded and often discriminatory zoning laws block clean energy development in low-income urban neighborhoods. An effort is underway to update rules, and enable clean energy equity.
April 3, 2020
The Struggle for Local Control over Energy Development

Hannah Wiseman

Energy projects bring economic opportunity, but host communities often suffer disproportionate health and environmental impacts. An expert in environmental regulation looks at community efforts to exert control over energy development.
Podcast Producer & Host
Since the first season of our podcast series, Andy Stone has directed each episode of Energy Policy Now—defining topics, inviting guests, and leading informative conversations.
host
Energy Policy Now Host and Producer
Andy Stone is producer and host of Energy Policy Now, the Kleinman Center's podcast series. He previously worked in business planning with PJM Interconnection and was a senior energy reporter at Forbes Magazine.