Featured Episode
ClimateAccess & Equity
May 4, 2021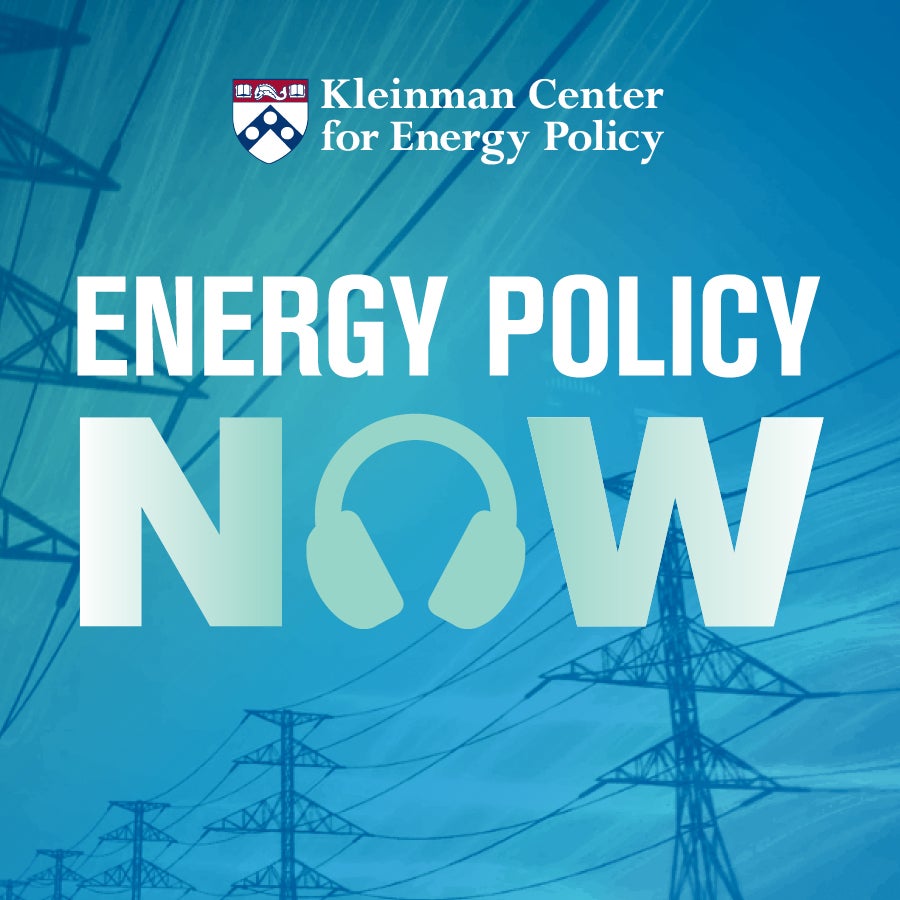 Energy Policy Now offers clear talk on the issues that define our relationship with energy and its impact on society and the environment.
---
Sort by

Publish Date

Sort by

Title
Guests
Summary
May 4, 2021
The Potential, and Risks, of Nature-Based Climate Solutions

Nathalie Seddon

Nature-based climate solutions can play a major role in climate change mitigation and adaptation. But biodiversity risks, and community impacts, loom large.
April 20, 2021
Combating Energy Poverty in the U.S.

Tony Reames

One-third of American households struggle to pay for their basic energy needs. University of Michigan's Tony Reames explores the role of policy in overcoming energy poverty.
September 29, 2020
Zoning Rules Stifle Urban Clean Energy. Can The Rules Be Rewritten?

Sara Bronin

Outmoded and often discriminatory zoning laws block clean energy development in low-income urban neighborhoods. An effort is underway to update rules, and enable clean energy equity.
April 3, 2020
The Struggle for Local Control over Energy Development

Hannah Wiseman

Energy projects bring economic opportunity, but host communities often suffer disproportionate health and environmental impacts. An expert in environmental regulation looks at community efforts to exert control over energy development.
March 17, 2020
Will the Clean Energy Transition Bring Energy Equality?

Daniel Kammen

Nobel Laureate Daniel Kammen, head of U.C. Berkeley's Renewable and Appropriate Energy Laboratory, discusses the development of clean energy solutions that meet the social and developmental needs of the communities they serve.
January 30, 2020
Following Refinery Blast, Philadelphia Looks to a Cleaner Future

Mark Hughes

Last June the largest oil refinery on the East Coast blew up. In the disaster's wake, can the city of Philadelphia and its residents transition to a cleaner, more financially sound future?
November 12, 2019
Rebuilding Puerto Rico's Electricity System

David Skeel

Puerto Rico's electric system was destroyed by Hurricane Maria in 2017. Will privatization of the island's electric utility ensure reliable and affordable energy for the future?
April 17, 2019
An Inside Look at the UN's Effort to End Energy Poverty

Rachel Kyte

Rachel Kyte, a leader of the United Nations' effort to eradicate energy poverty within a decade, discusses the challenge of providing universal energy access while limiting climate impacts.
November 13, 2018
As India Eliminates Energy Poverty, Can It Also Fight Climate Change?

Piyush Goyal

Piyush Goyal, India's minister of railways and coal and past minister of renewable energy, discusses his country's efforts to provide universal electricity access while limiting power sector pollution and climate impact.
November 28, 2017
India's Now or Never Climate Opportunity

Radhika Khosla

Mass migration to India's cities will triple the size of its built environment by 2030, driving up energy use and carbon emissions. An expert on India's energy sector looks at the country's efforts to balance development and climate impact.
Podcast Producer & Host
Since the first season of our podcast series, Andy Stone has directed each episode of Energy Policy Now—defining topics, inviting guests, and leading informative conversations.
host
Energy Policy Now Host and Producer
Andy Stone is producer and host of Energy Policy Now, the Kleinman Center's podcast series. He previously worked in business planning with PJM Interconnection and was a senior energy reporter at Forbes Magazine.