Insight
Transitioning to Tomorrow's Energy Future
Mollie Simon
|
April 23, 2019
Do we have the political will to decarbonize our energy systems? Rachel Kyte and others came to Penn to discuss how to make this ambition a reality. 
Energy transitions lie at the heart of the economic transformation needed to achieve zero net carbon emissions economies. In order to curb the worst impacts of climate change, the Intergovernmental Panel on Climate Change (IPCC) experts urge we stay below 1.5 degrees C of warming. And rethinking how we create and use energy is an essential piece of hitting that goal.
Last week, the Kleinman Center welcomed Rachel Kyte to lecture about this important topic. Rachel Kyte is chief executive officer of Sustainable Energy for All (SEforALL), special representative of the UN Secretary-General for Sustainable Energy for All, and co-chair of UN-Energy. And just this month, she was appointed the next Dean of the Fletcher School at Tufts University.
Kyte's lecture underlined that as we move from urgency to emergency, we must turn ambition into action.
"There are things that we should be doing, we need to do, and we can do. We have resources, we have the technology. The question is can we muster the political will?"
She went on to say that if you adopt fully the objectives of the Paris Agreement and the Sustainable Development Goals (SDG), we will build a world where we will provide basic services that support a chance at dignity and prosperity. And we can do it without carbon. The Paris Agreement pledged to keep global average temperate rise capped at 2C and the SDG on energy has three main prongs: universal access, double the amount of renewable energy, and double the rate of energy efficiency improvements.
"We sit at a time when there is enormous possibility but also huge challenge," reflected Kyte.
In conjunction with Rachel Kyte's lecture, Perry World House hosted a symposium looking at similar concepts. The world urgently needs innovative policy responses on key issues like climate adaptation, mitigation, and sustainability. The Global Shifts Colloquium: A Changing Climate, A Changing World brought together leaders from the city, state, national, and international stage to discuss and debate the latest ideas in climate policy.
As a mayor, Mauricio Rodas, Mayor of Quito, Ecuador represented the view of the city. "It is in cities where most emissions take place and it is in cities where the fight against climate change will be the most effective," commented Rodas, citing Quito's huge metro project as one of the ways his administration put this into practice.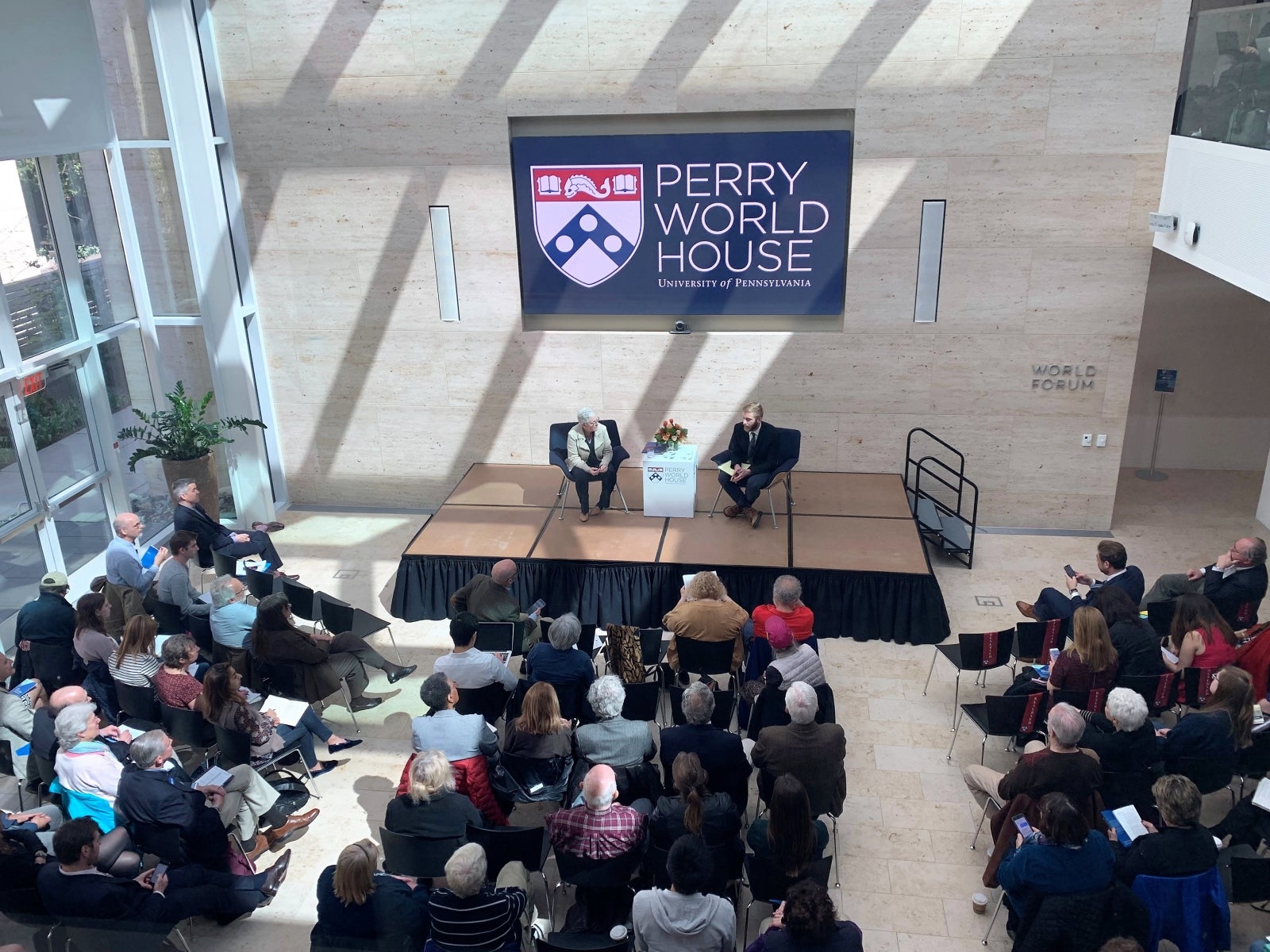 Expressing the national stance was former EPA Administrator and former Carnot Prize winner Gina McCarthy. She lamented the lack of leadership the United States is currently demonstrating on these issues on the global stage. "We have to do better".
McCarthy stressed the public health connection to climate and energy policy issues. For her, it was less about saving the natural world and icebergs but protecting the lungs and hearts of citizen right here in the United States. Stressing the climate policy spans many disciplines such as public health and economics.
Jeb Bush, former Governor of Florida, spoke about state efforts and advocated for a bottom-up approach, while Ovais Sarmad, Deputy Executive Secretary, United Nations Framework Convention on Climate Change (UNFCCC) and Zeid Ra'ad al Hussein, Former UN High Commissioner for Human Rights, gave the global perspective.
 "If you have such a big problem like [climate change] you have to devote time to it," said Mayor Rodas. "It sends a clear message to everyone that this is the priority and everyone has to work towards this goal."
It will take efforts and leadership from the city to international level to decarbonize our energy systems and at the same time ensure that no one is left behind. And the trailblazers we welcomed this week at Penn are just some of those fighting to make these changes happen.
Senior Communications Specialist
Mollie Simon is the senior communications specialist at the Kleinman Center. She manages the center's social media accounts, drafts newsletters and announcements, writes and publishes content for our website, and regularly posts to our blog.