We're in a world of climate trouble.
Climate disruption is already having major impacts on the United States, according to a draft report prepared by U.S. government scientists.  And a new study finds that there's only a five percent chance that we'll avoid increasing global average temperatures by less two degrees Celsius by the end of the century.
But it gets worse.
Even that two-degree Celsius upper bound has been called "dangerous."  Indeed, there's growing evidence that a safer upper limit of allowable warming may be half that amount.
So, is society accelerating the pace of decarbonization to steer us away from the climate cliff?
In a word, no.  (Except for climate alarmists like the United States Navy, who differ on the subject from their Commander-in-Chief, but I digress.)
When it comes to climate, the world's going to hell in a handbasket.  It's enough to drive you to drink.
Well, belly up to the bar.
The first round is a new report from Rocky Mountain Institute that takes the edge off the gnawing sense of climate despair.  It offers some refreshing hope, just like that first drink loosens you up after a hard day.
Positive Disruption: Limiting Global Temperature Rise to Well Below 2 Cº offers scenarios for synergistic, self-reinforcing transitions in energy, agriculture, and land use—like the kinds of disruptive changes that characterized the Industrial Revolution.  Taken together, RMI argues that these kinds of "virtuous cycles" could limit global average temperature increase to 1.5–2 degrees Celsius. 
The report is a fascinating read. It feels good going down, just like that first drink. However, the authors provide their own warning label:
The analysis we offer is a rough sketch of a rapid and disruptive energy transition, not a deep and rigorous technical and economic study.
So, put aspirations aside and order another round.
The International Energy Agency (IEA) serves up its annual Tracking Clean Energy Progress (TCEP).  It reports on the progress—or lack thereof—of clean energy technologies.  It's a stiff one that tests your tolerance and maybe starts edging you into depressant territory, just like that second drink.  TCEP finds:
(T)ransformation towards a clean energy system is not in line with stated international policy goals…While economic competitiveness of new technologies is improving, policy drivers do not always have sufficient market impact to steer technology choices in an optimal direction.
TCEP provides a handy interactive societal breathalyzer that assesses where clean energy technologies stand compared to international climate goals. It shows that we're blowing well above the carbon limit: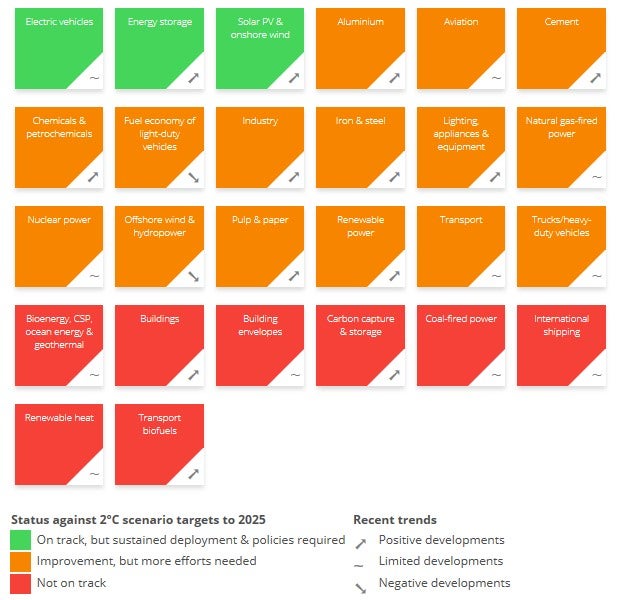 TCEP's fundamental conclusion is this:
Energy security and sustainability benefits need adequate market signals and regulations to encourage investments directed at long-term impacts. Market forces alone will not deliver the needed impetus.
Carbon bingeing has given us a deadly climate disruption hangover.  Life as we know it depends on our willingness and ability to sober up with smart public policies.
What'll it be?
Director, Center for Environment, Energy & Economy
is the founding director of the Center for Environment, Energy & Economy and Lecturer in Sustainability at the Harrisburg University of Science and Technology and a member of the Kleinman Center's Advisory Board.