What can a strategy game teach us about real-world sustainability? It turns out quite a lot. Last week, the Kleinman Center gathered Penn faculty and students for a playful game of Stress Nexus—a board game that teaches players to balance water, food, and energy for a sustainable planet.  
Perspectivity, the Dutch non-governmental organization that facilitates this game, directed the session—which included professors from Wharton to Design; graduate students engaged in everything from city planning to environmental policy; and other faculty and staff working on topics like sustainability, energy law, economics, and geosciences.
Stress Nexus puts players in the shoes of decision makers; teams of two players represented different countries and companies, with each team having a player who oversaw water and energy choices. Each game session consisted of a combination of teams of countries and companies. Players were responsible for the expansion of the cities and economies on that game board. Along the way, players faced issues similar to those in the real world. Our board suffered droughts that threatened farms, energy plants, and cities. We also were presented with opportunities to have "international negotiations," where we discussed what to do about issues like water and resource shortages.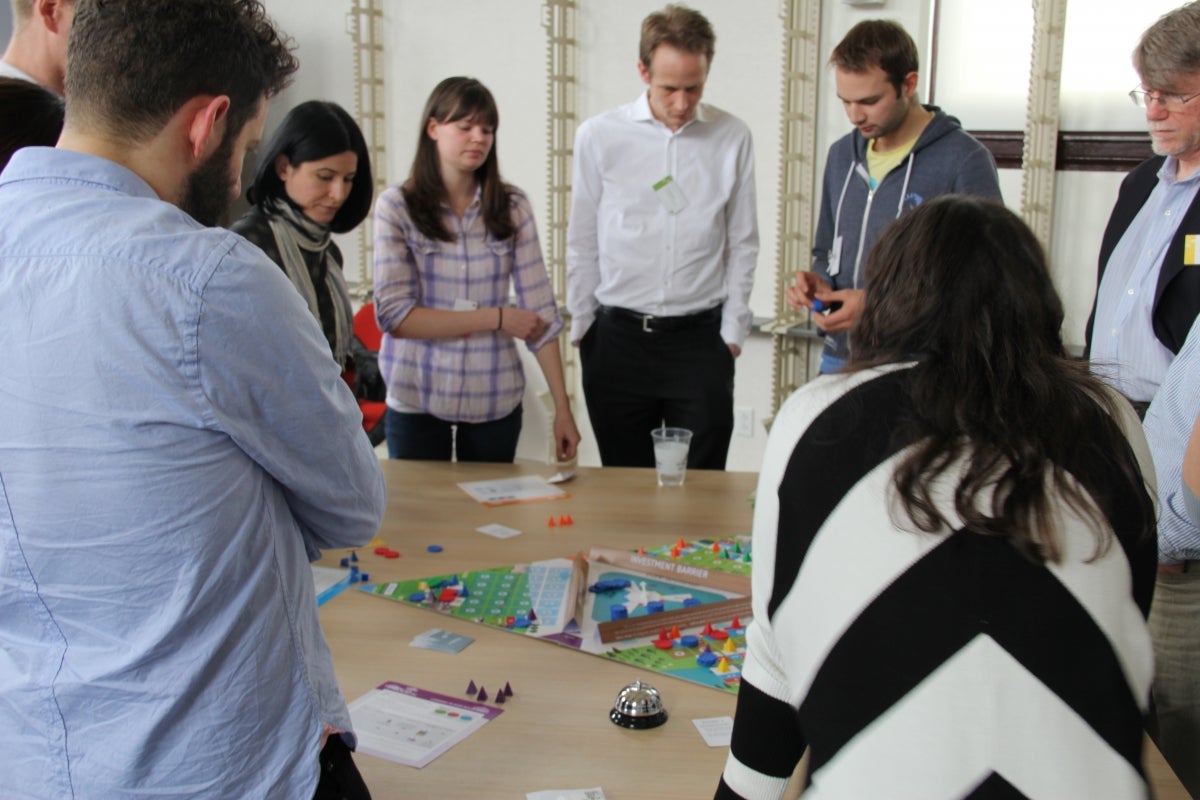 Our talent pool of expert players provided a unique range of views and approaches as we delved into the game. As with most strategy games, it was clear that everyone had a unique approach.
Collectively, our game session was not very successful. Despite having some of the sharpest minds at Penn playing the game, we fell victim to many of the temptations that challenge world leaders today. I was in charge of an energy company, and although I personally strongly believe that energy companies should develop sustainably, I immediately felt the urge to take more resources than necessary and expand in order to maximize my company's profits. I was not inclined to make sustainable choices, because I perceived more profits as "winning." Although our shared game session was losing (i.e. cities were collapsing), I felt as though I was winning. Why? Because I was bringing in more money than my competitors.
If the goal was to have a community that sustained itself through different periods of resource scarcity, we did not achieve that. Had we worked collectively as a group of countries and companies, we could have maximized our profits and created a community in which we all were prosperous. Instead we acted as individuals. As a result, we minimized our success. It is easy to see how this lesson can translate into the real world. When all partners come to the table with a priority towards sustainability, the community is stronger and more stable.
Senior Communications Specialist
Mollie Simon is the senior communications specialist at the Kleinman Center. She manages the center's social media accounts, drafts newsletters and announcements, writes and publishes content for our website, and regularly posts to our blog.