Insight
Pennsylvania Should Build Better
Mollie Simon
|
November 22, 2017
Last month, Pennsylvania House Bill 409 (HB 409) was signed into law by Governor Tom Wolf. This bill amends the Pennsylvania Construction Code Act and modifies the process by which the Review and Advisory Council adopts code provisions to the Uniform Construction Code (UCC), Pennsylvania's statewide building requirements. The bill passed with only one "nay" vote, but not all Pennsylvanians are happy with it.
Both sides of the aisle had qualms about the bill, but it passed notwithstanding. Pennsylvania is currently using outdated 2009 building codes, which are no longer in compliance with the International Codes Council (ICC), necessitating a quick vote on HB 409. The bill that ultimately passed sets rules about the adoption of the 2015 and the 2012 ICC standards and helps amend the rules for future revisions. 
While HB 409 makes some improvements, it delays the implementation of the most recent codes recommended by the ICC. The codes adopted by the ICC promote energy efficiency, which saves consumers money and reduces energy use and pollution.
Increasing energy efficiency is key in creating a safer, more reliable, more sustainable energy system. It is often the quickest and most cost effective way to improve energy savings and address environmental impacts of energy production. Implementing policies and regulation that promote energy efficiency is shown to have a payoff for a variety of stakeholders.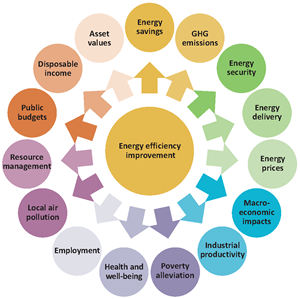 This bill extends the review and adoption timeline of Pennsylvania's Uniform Construction Code (UCC) from every three years to every four and a half years. The ICC, however, issues updates to the building codes every three years. Given this updated timeline for UCC review, after two cycles Pennsylvania will be three versions behind the ICC standards. This puts Pennsylvanians at a disadvantage. As other states are moving forward with more efficient buildings, buildings in Pennsylvania will not be held to as high a standard. Individuals and businesses lose out on energy savings from efficiency and the state as a whole loses in respect to carbon emissions and pollution.
HB 409 also does not allow for Pennsylvania municipalities to adopt stricter building codes than the UCC, continuing an already existing mandate. Philadelphia, however, is exempt from this provision but other Pennsylvania cities like Pittsburgh are not. While Philadelphia will be able to hold buildings within the municipality to a more stringent benchmark, other cities do not have the same ability.
Many advocacy organizations have voiced disapproval. The Sierra Club called this bill, "a lost opportunity to reform the broken process by which Pennsylvania reviews and adopts its statewide building codes." The American Institute of Architects' Pennsylvania Chapter said that while they are "adding this to our list of legislative wins for this session," they "will continue to fight for more comprehensive and aggressive code adoption for all of Pennsylvanians in the future." Building codes are important for increasing energy efficiency, reducing pollution, saving the public money, and keeping residents and businesses safe. And there is more that Pennsylvania could be doing to further and improve upon these goals. 
Senior Communications Specialist
Mollie Simon is the senior communications specialist at the Kleinman Center. She manages the center's social media accounts, drafts newsletters and announcements, writes and publishes content for our website, and regularly posts to our blog.