Insight
Part 2: What Do We Want the Legacy of Shale Gas to Be?
John Quigley
|
September 29, 2016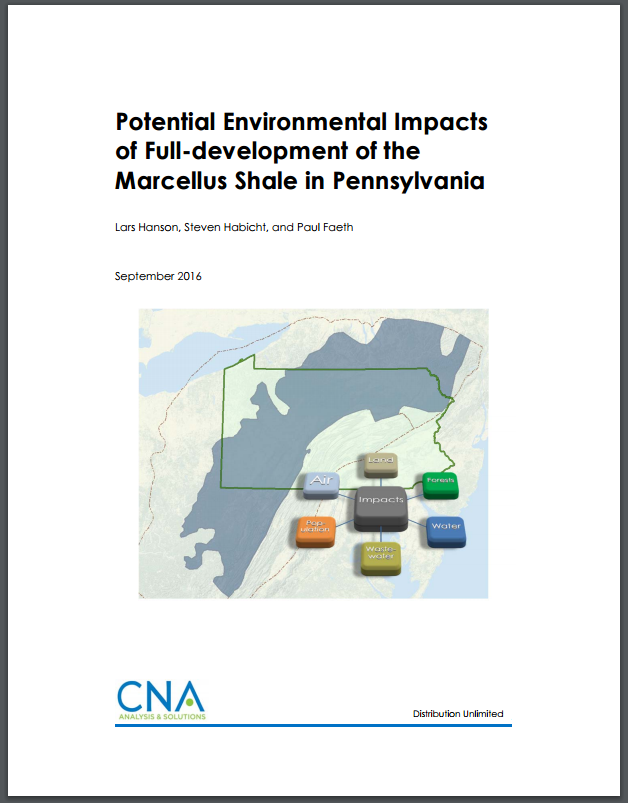 In my last post, I wrote about a new report from The Nature Conservancy and Carnegie Mellon University that discusses the next generation of environmental practices for shale gas development.  An important new analysis from CNA, a nonprofit research organization that operates the Center for Naval Analyses and the Institute for Public Research, provides the basis for understanding how important those next-gen practices are.
The Potential Environmental Impacts of Full Development of the Marcellus Shale in Pennsylvania looks at what would result from the development of all remaining technically recoverable resources in the Marcellus shale.
The report presents a rich set of maps depicting the results of the analysis:
As noted in the report's Executive Summary:
…these aggregated metrics do not tell the full story of the impacts, which have important geographic variations. Thus, the primary output of this research is an atlas: a set of maps that puts the impacts of the projected natural gas development into useful spatial context. These maps, and the data developed to generate them, present useful information to policy-makers, decision-makers, and other researchers concerned about managing the range of impacts of shale gas extraction in Pennsylvania.
Given this CNA analysis and the TNC/CMU report, it's appropriate to ask again:  What do we want the legacy of shale gas to be?
Director, Center for Environment, Energy & Economy
is the founding director of the Center for Environment, Energy & Economy and Lecturer in Sustainability at the Harrisburg University of Science and Technology and a member of the Kleinman Center's Advisory Board.