Insight
Part 1: What Do We Want the Legacy of Shale Gas to Be?
John Quigley
|
September 27, 2016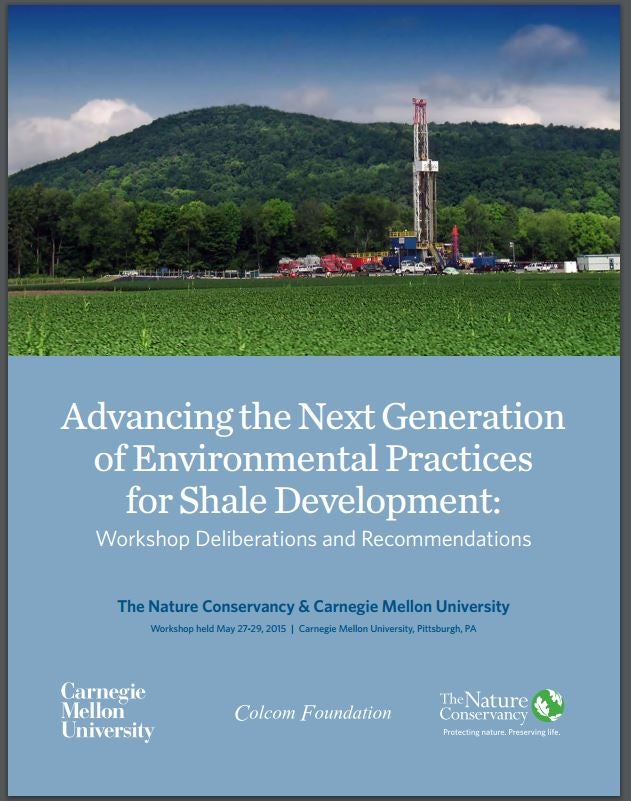 A new report by The Nature Conservancy and Carnegie Mellon University discusses the next generation of environmental practices for shale gas development:
In May, 2015, The Nature Conservancy (TNC) and Carnegie Mellon University (CMU) hosted a multi-sector, collaborative workshop to discuss how to advance the next generation of environmental practices for shale gas development.  I had the honor of delivering a keynote address at the gathering in Pittsburgh.
The workshop built on TNC's important work in understanding the environmental impacts of energy development and advancing best practices and new tools to reduce those impacts.  CMU, too, has been a leader in shaping the conversation about a sustainable path forward on shale gas and more.
A newly-published report of the workshop's proceedings is essential reading for industry, regulators, policymakers, and citizens.  As the report's Executive Summary puts it:
The Appalachian region faces a tremendous challenge in striking a balance between making the best use of its vast energy resources and safeguarding its abundant ecological resources. The region is a global hotspot for forest and freshwater biodiversity and also a hub of energy development, with plentiful coal, natural gas from shale, and wind energy. All forms of large-scale energy production and delivery require an infrastructure network and construction, operations, and maintenance activities that, to varying degrees, alter our landscapes and communities, challenge the health of our freshwater systems, and strain our air quality. In approaching this challenge, we need to consider what we want our legacy to be not only today but in the future as the mix of energy sources we rely upon continues to evolve.
The workshop was organized around four challenge areas: landscape, habitat, air, and water: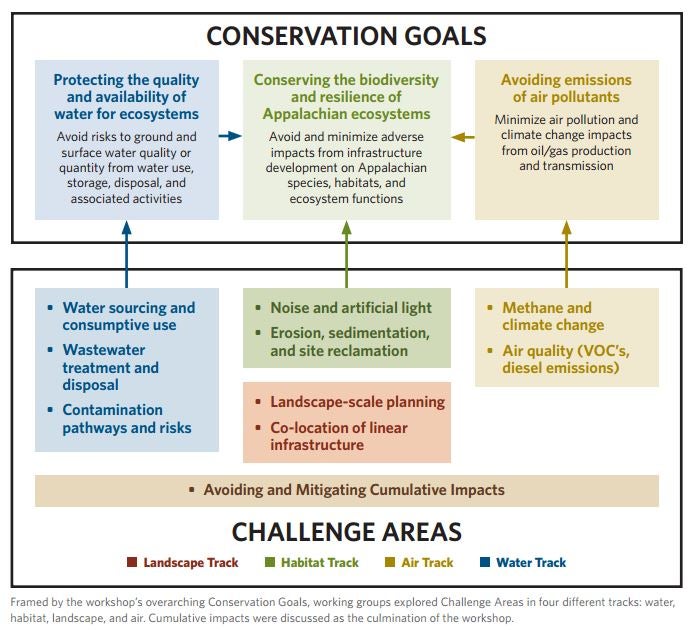 The resulting recommendations are thoughtful—and ambitious.  If truly responsible development of shale gas resources is to be achieved, these recommendations must be seriously considered by all stakeholders.  And that includes the ultimate owners of Pennsylvania's natural resources—our citizens.
As the report asks: what do we want our legacy in managing shale gas development to be?
---
Read Part 2 of this blog post series.
---
Director, Center for Environment, Energy & Economy
is the founding director of the Center for Environment, Energy & Economy and Lecturer in Sustainability at the Harrisburg University of Science and Technology and a member of the Kleinman Center's Advisory Board.