Insight
Hold Mr. Smith's Hand Firmly: The Need for the Clean Power Plan
John Quigley
|
July 7, 2016
I was fortunate to be in attendance in the East Room of the White House last August when President Obama announced the Clean Power Plan.  It was an historic moment in combatting the existential threat of climate disruption, committing the nation to reducing carbon dioxide emissions 32% by 2030.
However, on February 9, 2016, the US Supreme Court stayed implementation of the Clean Power Plan.  While the courts have—temporarily, I hope—delayed the climate battle on the regulatory front, market forces have lowered US carbon emissions remarkably.  Indeed, the real War on Coal has been waged very successfully by cheap natural gas.
Cheap natural gas is displacing coal in power generation, and carbon emissions have plummeted as a result. So much so, according to Daniel Cohan, an associate professor of civil and environmental engineering at Rice University, writing for Bloomberg Government, that the Clean Power Plan's 2030 carbon emission reduction goals could be met this year—before the rule even emerges from the courts.
And carbon dioxide emissions are not the only thing that's down thanks to cheap natural gas.  So are electricity prices.
US average residential electricity prices are flat, and are expected to stay about the same in 2016 and then rise about 2.5% in 2017.  Strikingly, spot prices in the PJM Interconnection averaged 34 percent lower in the first six months of 2016 than a year ago: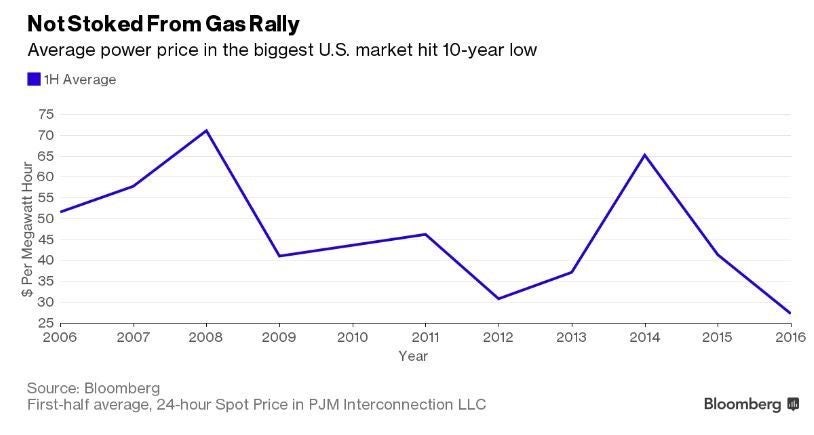 So, carbon emissions and electricity prices have plummeted.  Is the Clean Power Plan even needed?
Absolutely.
The US may indeed meet CPP goals this year, but that's no reason to discard the CPP requirements or declare them unnecessary.  Low natural gas prices are the current driver of CO2 emissions reductions.  While those prices are projected to remain low, there will be some rebound, according to Energy Information Administration projections: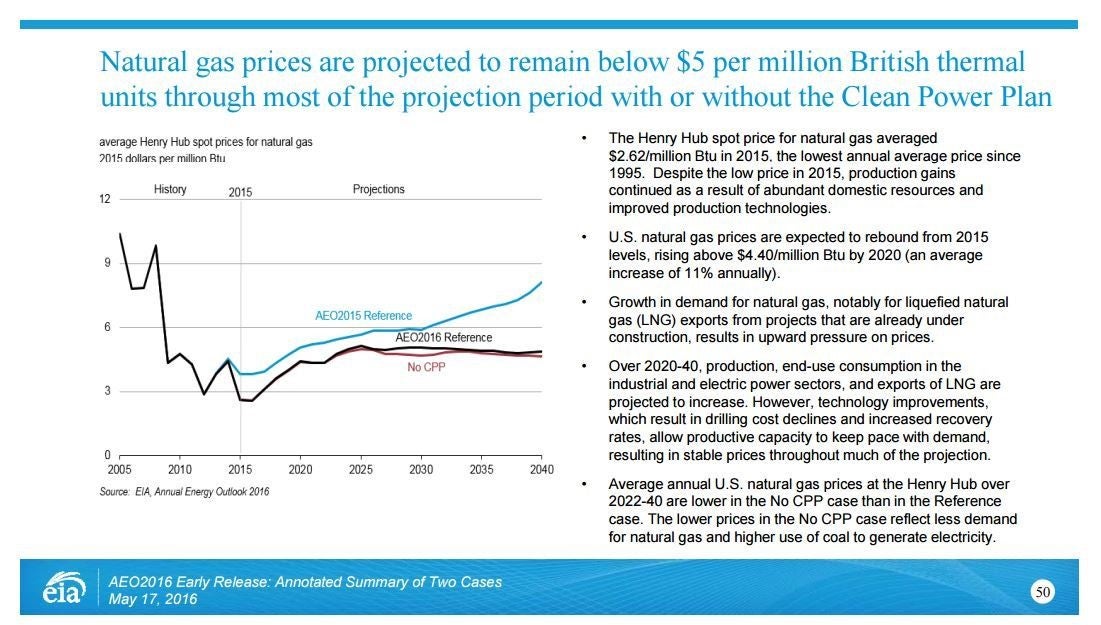 As Jeff McMahon writes in Forbes, "without the Clean Power Plan, there's nothing to prevent a protracted coal rebound in the future that could wipe out the emissions gains" that the switch to gas has enabled.  A fully-enacted CPP would make sure that these emission gains are locked in should natural gas prices rise and encourage a shift back to coal.
It's important to note here that a critical corollary to the Clean Power Plan in climate policy is the minimization of methane emissions across the natural gas value chain.  US EPA has begun to take steps in that direction, and earlier this year Pennsylvania, the nation's #2 natural gas producing state, announced the development of a nation-leading methane reduction strategy.  But both the Clean Power Plan and the methane strategy face opposition in the Pennsylvania General Assembly.
Market forces—driven by cheap natural gas—have dramatically lowered US CO2 emissions.  But when it comes to reducing carbon dioxide emissions, it's important to hold Adam Smith's famous invisible hand firmly.  The Clean Power Plan must go into effect as important first step in confronting the challenge of climate disruption.
Director, Center for Environment, Energy & Economy
is the founding director of the Center for Environment, Energy & Economy and Lecturer in Sustainability at the Harrisburg University of Science and Technology and a member of the Kleinman Center's Advisory Board.