Insight
Clean Energy Costs Continue to Fall
Mollie Simon
|
January 22, 2018
Can renewable energy keep up with fossil fuels? A new report from the International Renewable Energy Agency says yes.
Can renewable energy keep up with fossil fuels? A new report from the International Renewable Energy Agency (IRENA) says yes.
The report, released last week, shows that renewable energy continues to be increasingly competitive in meeting generation needs. The report forecasts that all types of clean energy, including bioenergy-for-power and hydropower, will be in the cost range of fossil fuels within the next two years. Adnan Amin, IRENA's Director General, calls the findings a "significant shift in the energy paradigm."
The report expects renewables will cost between $0.03/kWh and $0.10/kWh by 2020, while the current cost spectrum for fossil fuel power generation is $0.05/kWh to $0.17/kWh. IRENA cites technological advancements, competitive procurement, and a large base of "experienced, internationally active project developers" as the drivers of this success.
Innovations create more efficiencies in manufacturing, improve performance, and reduce installation costs. As these innovations hit the market, prices become more competitive.
Utility-scale solar photovoltaic (PV), in particular, has seen significant cost decreases. According to IRENA, "global weighted average levelized cost of electricity (LCOE) of utility scale solar PV has fallen 73% since 2010, to USD 0.10/kWh for new projects commissioned in 2017." Additionally, IRENA predicts that by next year, the best onshore wind and solar PV projects will be delivering electricity for $0.03/kWh, which is considerably below the current price of fossil fuels.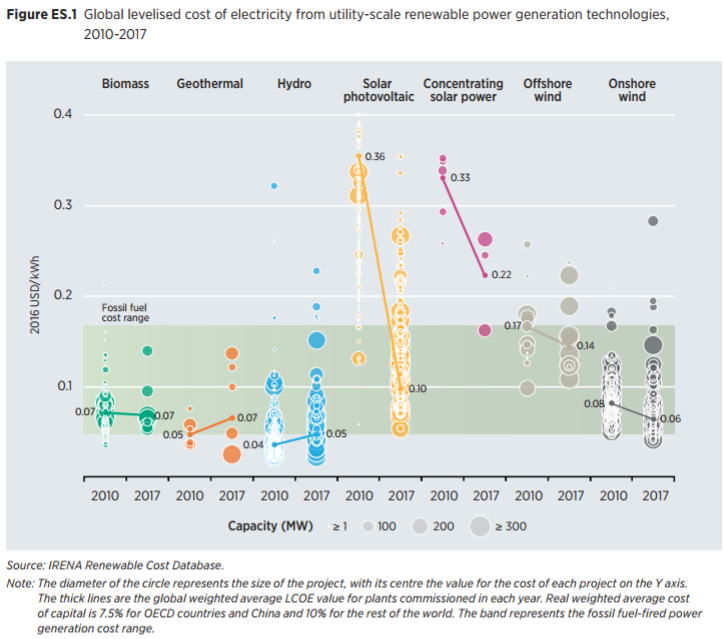 Although renewables continue to be more and more attractive than fossil fuels, U.S. policy is moving away from clean energy in favor of traditional fossil fuels like coal. President Trump campaigned on "bringing back coal" and has attempted to follow up on this promise by thwarting the Clean Power Plan and pulling out of the Paris Agreement in an attempt to keep fossil fuels up and running.
The Department of Energy recently issued a Notice of Proposed Rulemaking (NOPR) on grid resiliency that would have guaranteed cost-plus-profit returns to generators that store 90 days of fuel on-site—coal and nuclear plants. This proposal was unanimously rejected by the Federal Energy Regulatory Commission (FERC) earlier this month, but illustrates the administration's commitment to support fossil fuel generation.
Despite the current U.S. political landscape, the dynamics of energy are undoubtedly shifting. No longer can high costs be blamed for a delay in switching to cleaner sources of energy. If the projections of this report come to fruition, by 2020 clean energy will be competing with—and perhaps even undercutting—fossil fuel generation. Not only is choosing clean renewable energy the environmentally conscious choice, it is also makes economic sense. 
Senior Communications Specialist
Mollie Simon is the senior communications specialist at the Kleinman Center. She manages the center's social media accounts, drafts newsletters and announcements, writes and publishes content for our website, and regularly posts to our blog.