Insight
An Urgent Need for a Clean Energy Transition
Mollie Simon
|
March 5, 2020
With diverging political opinions and waning public concern, the clean energy transition needed to thwart climate change has not progressed fast enough. Visiting Scholar Dan Kammen makes the case that our future depends on an urgent response to these challenges.
This week, the Kleinman Center welcomed Visiting Scholar Daniel Kammen to campus. Kammen is a professor at the University of California, Berkeley, with parallel appointments in the Energy and Resources Group, the Goldman School of Public Policy, and the department of Nuclear Engineering. He also is the founding director of the Renewable and Appropriate Energy Laboratory (RAEL).
While at the Kleinman Center, Kammen gave a public talk about the future of clean energy and the revolution needed to drive us away from fossil fuels, in order to avoid climate catastrophe.
Download Slides:

Because of political differences, a sense of a lack of urgency, and a failure to engage a broad coalition of society, the clean energy transition has not been moving fast enough. But Kammen outlined that the speed in which we respond to this new and changing reality will shape our collective future.
Kammen's talk hit on three main points:
The climate crisis is now an urgent opportunity
Supporting infrastructure for green energy economy
Powering a just transition and the Green New Deal
The price of renewables like solar and wind have plummeted already today, in many places wind is the cheapest thing you can install. Going further, Kammen showed the audience what our energy landscape could look like under a social cost of carbon. It looks like a country even more dominated by solar and wind.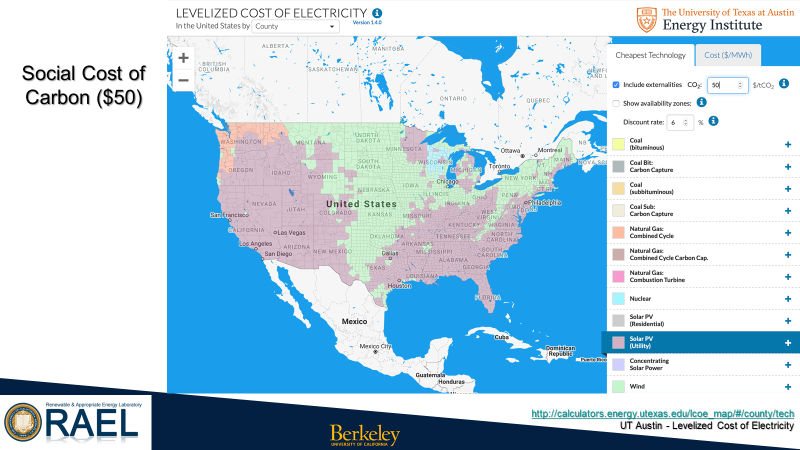 As he continued, he showed a striking graph that illustrated the input needed bring our CO2 emissions to zero. The more time that passed without action, the steeper and more drastic the decline curve becomes. We will have to do more with less time.
"The longer we wait, I am more worried about the slope than I am about the peak," said Kammen. "Because we would have to sustain this level [of carbon dioxide emission reduction] for so long and we have no experience."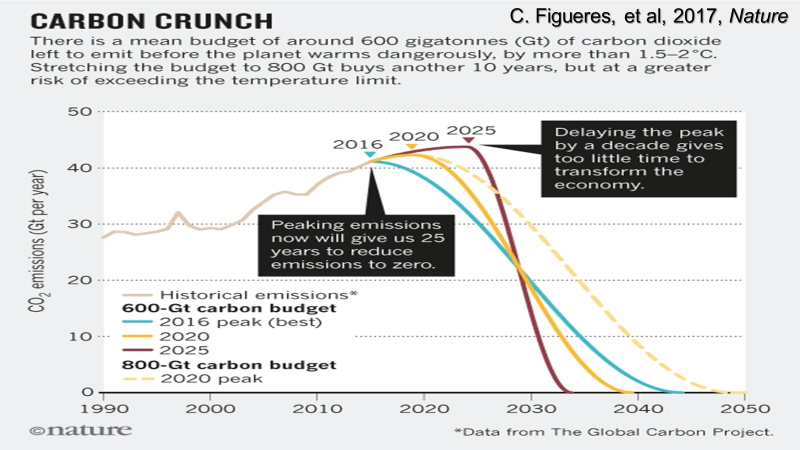 Wind and solar will clearly make up a large part of the world Kammen envisions. "The world we are moving to is one where there is almost no baseload, it is all intermittent. And it's a function of how smart is your system in terms of interrogating and sending power to storage or loads or various things like that," reflected Kammen.
Kammen is a supporter of the Green New Deal, a legislative package proposed by Representative Alexandria Ocasio-Cortez of New York and Senator Edward J. Markey of Massachusetts and endorsed by people such as presidential candidate Bernie Sanders. The Green New Deal that aims to cut the U.S.'s reliance on fossil fuels, address climate change, and improve economic inequality. Kammen was one of 57 scientist to sign a letter of support for Sander's Green New Deal climate plan.
It is clear that we have a lot of work left to do. But with folks like Daniel Kammen working on the issues, it feels like, through collective action, some of the worst climate catastrophes could still be avoided.
Communications Coordinator
Mollie Simon is the communications coordinator at the Kleinman Center. She manages the center's social media accounts, drafts newsletters and announcements, writes and publishes content for our website, and regularly posts to our blog.