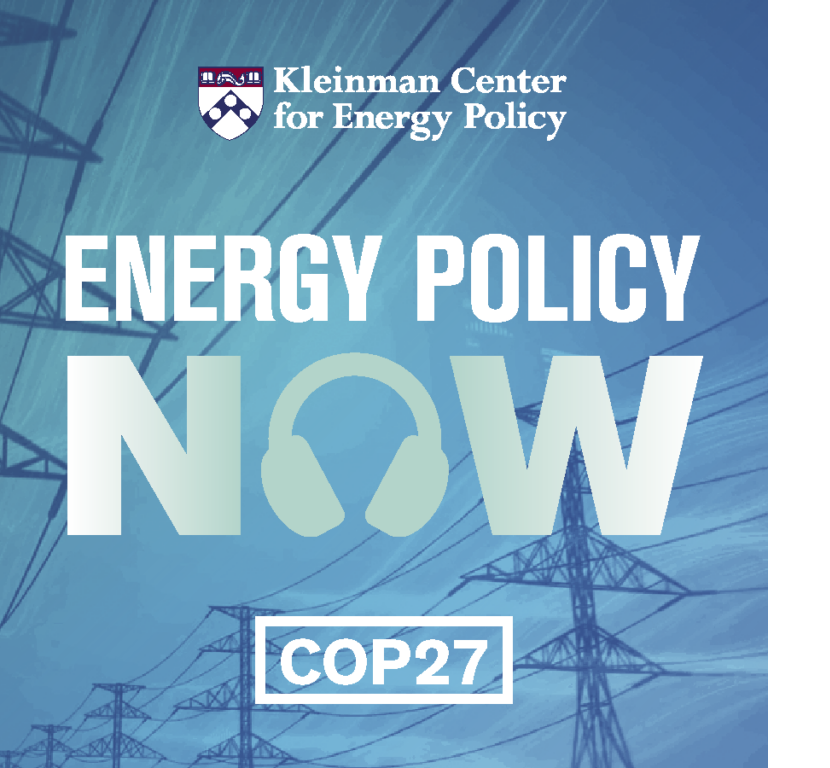 Energy Policy Now offers clear talk on the issues that define our relationship with energy and its impact on society and the environment.
---
Sort by

Publish Date

Sort by

Title
Guests
Summary
February 28, 2023
Scaling Private Finance for Global Solar Growth

Laura Van Wie McGrory

A working paper from WRI, the International Solar Alliance and Bloomberg Philanthropies examines the essential role of private finance in scaling solar power development.
October 26, 2022
What Impact Will the IRA Have on Consumer Energy Costs?

Dallas Burtraw

New research from Resources for the Future quantifies the Inflation Reduction Act's expected impact on clean energy development, energy costs, and emissions.
September 27, 2022
Scaling Green Hydrogen for a Global Market

Alicia Eastman

Green hydrogen hubs are being developed in some of the world's most remote locations, to serve growing clean energy demand in Asia, Europe and the U.S.
August 2, 2022
Can Clean Energy Deliver Energy Justice to Canada's First Nations?

Melina Miyowapan Laboucan-Massimo

A prominent advocate for indigenous rights in Canada sees promise in clean energy.
July 19, 2022
Proposed FERC Rules Aim to Accelerate Grid Decarbonization

Shelley Welton

The United States' electricity regulator has proposed two major electricity market reforms that could speed the pace of renewable energy development. 
June 21, 2022
Will Defense Production Act Spur Solar Supply Chain Development?

Robert Scott

An expert in international trade policy discusses the Biden Administration's use of the Defense Production Act, and tariff restrictions, to build a competitive U.S. solar supply chain. 
November 30, 2021
U.S. Electricity Regulator Grapples with Barriers to a Clean Grid

Marc Montalvo

Who will pay for the electric grid of the future? The Federal Energy Regulatory Commission explores options to incentivize and finance a vast transmission network to support clean energy.
November 2, 2021
Massive Shift toward Solar Power Begins in Largest U.S. Electricity Market

Mike Borgatti

An unprecedented backlog of clean energy projects is in line to join PJM Interconnection, an electricity market serving one in five Americans.
July 27, 2021
Rare Earth Elements Pose Environmental, Economic Risks for Clean Energy

Amy Chu,

Oscar Serpell

Rare earth elements are essential to many clean energy technologies, yet their production can bring severe environmental impacts. A new report grapples with rare earths' environmental liabilities and efforts to diversify supply beyond China.
June 29, 2021
Why Is It So Hard to Build the Electric Grid of the Future?

Rob Gramlich

America's electric grid is ill-equipped to enable the low carbon energy system of the future.  A grid policy expert explores the policy and economic changes that will be needed to bring the grid up to date.
May 18, 2021
Powering Women's Economic Development Through Equal Access to Energy

Sheila Oparaocha

Sheila Oparaocha of the International Network on Gender and Sustainability discusses the global effort to ensure gender equality in energy access, as an essential foundation for economic development and public health. 
March 9, 2021
What's Driving Corporate America's Big Bets on Clean Energy?

Miranda Ballentine,

Bryn Baker

Corporate renewable energy deals were equal to a quarter of total U.S. electric power additions in 2020. The Renewable Energy Buyer's Alliance talks policies to accelerate clean energy purchasing.
December 15, 2020
Energy Storage's Seasonal Challenge

Oscar Serpell

Electricity storage technologies have proven their worth in balancing daily fluctuations in wind and solar output. But can storage address the challenges presented by the decarbonized grid of the future?
November 10, 2020
Offshore Wind Presents Big Challenge for the Electric Grid

Brandon Burke

Large scale offshore wind development will require a rethink of how America's electric grid is designed, and paid for.
September 29, 2020
Zoning Rules Stifle Urban Clean Energy. Can The Rules Be Rewritten?

Sara Bronin

Outmoded and often discriminatory zoning laws block clean energy development in low-income urban neighborhoods. An effort is underway to update rules, and enable clean energy equity.
Podcast Producer & Host
Since the first season of our podcast series, Andy Stone has directed each episode of Energy Policy Now—defining topics, inviting guests, and leading informative conversations.
host
Energy Policy Now Host and Producer
Andy Stone is producer and host of Energy Policy Now, the Kleinman Center's podcast series. He previously worked in business planning with PJM Interconnection and was a senior energy reporter at Forbes Magazine.