There is a lot of excitement about the upcoming solar eclipse. People are making plans to view with family and friends and are even traveling to be inside the total eclipse path. Energy providers have also been planning for this event. With our reliance on solar, is the energy grid ready for the big light in the sky to go out next week?
The last time there was a solar eclipse in the United States it was 1991 and solar was a much smaller portion of the power grid. In the past decade, solar power has grown by an average of 68% a year and now accounts for 45 gigawatts of installed capacity. Seven million U.S. homes and businesses are directly powered by solar.

During the eclipse on August 21, solar capacity will be significantly diminished, with the hardest hit states being California and North Carolina. Although the total eclipse path does not pass through California directly, the high amount of solar in the state still makes it one of the most impacted areas. In California, the "Do Your Thing for the Sun" campaign encourages consumers to cut energy use during the eclipse to help alleviate stress.
The U.S. Energy Information Agency (EIA) predicts that in total, 1,900 utility-scale solar PV power plants in the U.S. will be affected. As solar goes dark, natural gas, hydro and other combinations of power generation will fill the demand gap. Analysis from Bloomberg predicts that nationwide, as much as 9,000 megawatts of solar could go offline, which is equivalent to nine nuclear reactors.
While Philadelphia is not on the total eclipse path, it is estimated that about 75 percent of sunlight will be obscured in the region. PJM predicts that they could lose as much as 2,500 megawatts of power generation, which would only account for about 2 percent of the total PJM load. Even if it is an extremely hot day with air-conditioners blasting, PJM assures they can manage the loss of solar power.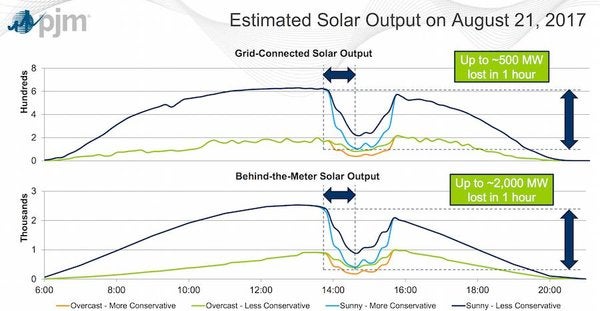 When it comes to grid disruptions, we usually do not have the luxury of an advance warning. Hurricanes, wire troubles, and severe winter storms cause disruptions without much notice. A solar eclipse, with its celestial precision, provides grid operators years of advance notice to make alternate plans.
In 2015 a solar eclipse passed through Europe. Germany, which is over 40 percent powered by solar, was hit hard but the eclipse event passed without any major disturbances. Here in the states, operators are confident they can make it through this event without major impacts. 
While grid operators do not expect problems, they are curious to see what occurs. The eclipse is being seen by many as a learning opportunity to see how closely the predictions match reality. NASA scientists are using the opportunity to further study and understand Earth's energy systems. The eclipse is also being used as an opportunity by some in the energy industry to educate consumers about the public about the growth of the solar industry and the need for a diversified energy mix. 
Senior Communications Specialist
Mollie Simon is the senior communications specialist at the Kleinman Center. She manages the center's social media accounts, drafts newsletters and announcements, writes and publishes content for our website, and regularly posts to our blog.