Profile
Penn Carbon Capture Expert Judges XPRIZE
May 11, 2021
A Penn carbon capture expert judges a competition to decarbonize the power sector, rewarding innovative ideas in carbon utilization.
In 2016, Pete Psarras had just finished speaking on carbon utilization (the conversion of CO2 into marketable products) when a member of the XPRIZE team approached him and asked if he would be willing to help judge the next XPRIZE.
Psarras, a research assistant professor affiliated with the Kleinman Center and head of the Penn Clean Conversions Lab, immediately thought of the first XPRIZE in private spaceflight. That competition awarded $10 million dollars to the first successful nongovernmental spacecraft—the catalyst behind today's private space industry. 
What he soon learned was that this competition would not be a race into space, but a race to decarbonize the power sector. Officially called the NRG COSIA Carbon XPRIZE, this prize called upon novel technologies to capture CO2 and convert it into something useful. Psarras was a carbon capture expert. And, yes, he wanted to help.
When Psarras agreed to participate, submissions had just opened. Eventually 38 teams would sign up for the five-year challenge.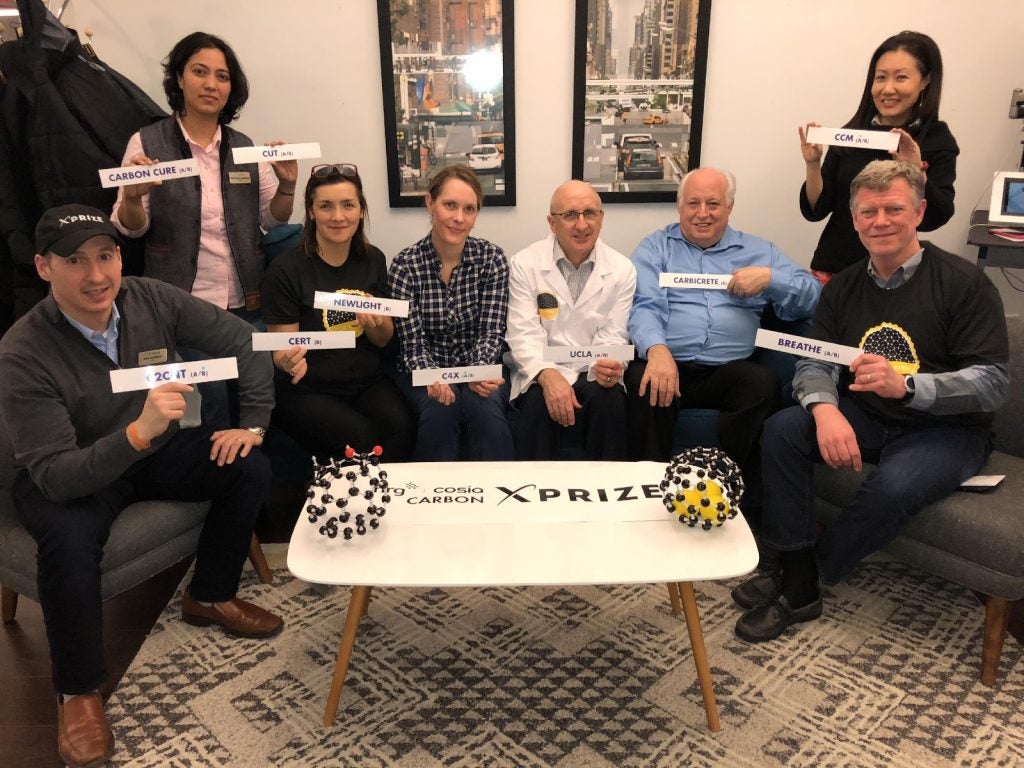 It was a big commitment for the teams, Psarras explained, "The goal was to bring an idea to market. The contest required that they secure investors, create a viable product, and scale it."
In February of 2018, the judges selected ten finalists—giving the teams three years to continue developing and scaling their products.
"That was a great meeting. A lot of back and forth. A lot of analytics. We saw a lot of teams transitioning," said Psarras. "Some of the systems were very primitive, but they worked."
Each team that made it to the finals received $500,000 in prize money.
Finalists were then asked to demonstrate their technologies at real-world testing facilities erected specifically for the competition, near a coal-fired power plant in Wyoming or a gas-powered power plant in Alberta. The planning, engineering, and financing associated with these demonstrations are a tall order for any venture, let alone in an accelerated timeline and during a global pandemic.
These challenges were hurdles that ultimately proved too much for some competitors. Others felt that they should focus on their business plans without the constraints of a competition.
The best part about joining eight other judges through this process, Psarras said, was gaining the perspective from each other. "We all worked together. There were no egos."
In April, the judges selected two winning technologies: one from Canada, the other from California. For their greener concrete technologies, the teams were both awarded the prize, splitting the $15,000,000 prize money.
"This is about generating momentum and visibility in carbon management, and the hope of what might follow."

—Peter Psarras
CarbonCure Technologies, a Canadian team, demonstrated a technology that injects CO2 into the concrete plant's reclaimer system along with concrete industry wastewater. This creates a mineral that then can be incorporated into new concrete, providing additional strength.
UCLA's CarbonBuilt demonstrated a technology that injects CO2 into the concrete mixture as it cures, which also strengthens the final product. Their product has the potential to reduce the carbon footprint of concrete by replacing higher carbon footprint materials with low-cost, waste materials. 
Reducing CO2 emissions is a worthwhile goal in the fight against climate change. Concrete is a key part of this task. It is the most used building material on the planet and pumps a lot of CO2 in the atmosphere—accounting for 7% of the world's emissions. These emissions come from both the chemical process and heating. To get temperatures hot enough, we typically must burn fossil fuels.
Some have downplayed the results of the competition, claiming it was a distraction to more urgent and impactful solutions, like decarbonization of cement production. But Psarras disagrees. "The first XPRIZE was not just about putting a private spaceship into space. They put it into space, and then the multibillion-dollar industry followed." He hopes that this is repeated for carbon utilization.
"It's hard to quantify now, and those that try to will miss the point. This is about generating momentum and visibility in carbon management, and the hope of what might follow."